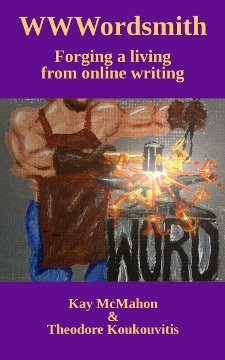 by Kay McMahon & Theodore Koukouvitis
First Edition: published 13 December 2012
I suppose most of us have dreamt at one time or another of writing a book. After all, everyone has a book inside them, or so it's said. (Mine was my PhD thesis. It didn't sell.) But the advent of computers and the creation of the World Wide Web have made the dream of making a living through writing much more attainable.
WWWordsmith: Forging a living from online writing was written to explain how, if you're a good enough writer, you can do just that. And better still, you can do it from just about anywhere – it's the portable career par excellence!
Kay McMahon (the brains behind this very website) has teamed up again with our pal Theodore Koukouvitis to write about the ins and outs of making money online from writing. Kay, of course, has been earning from online writing since this website went live – her first advertising deal resulted from an enquiry on the very first day! Since then she's gained a lot more experience and knowledge of running a business based on online writing, and has an MSc with Distinction to prove it. Theo, meanwhile, has built a successful career as a freelance writer in a fiercely competitive market, and has been through all the various ways there are of tracking down those jobs – from the online job marketplaces to the direct approaches to webmasters.
WWWordsmith is emphatically not there to teach you how to write – if you need to learn that, do a course. The purpose of the book is to show you how to make money online through your writing. So Kay and Theo explain the two fundamental ways of making money online from it: writing as a job (freelancing), and writing as a business (self-publishing).
After a brief look at what it is that makes people pay for writing, the first half of the main body of the book examines freelance writing – what sort of jobs are available, where to find them, and how to make sure you're properly set up with everything you need to do the writing and to manage the individual commissions, including those lovely payments. There's also plenty of useful advice on how to maintain good working relationships with your clients (including how to avoid being ripped off by them!), and how to build a good reputation – and the behaviour that can blacken your name, too.
Then we're into the world of self-publishing. This is about finding a niche and doing the market research needed to see whether it's viable, then setting up a website where you can publish your content. The pros and cons of various types of website (eg blogs, forums, content sites), as are the ways of getting them noticed and several monetising models. And if you don't fancy running a website yourself, then a chapter on eBook publishing shows you how you can finally sell that book you always knew was lurking inside you. Finally, there's an invitation to get in touch if you need any further advice.
So if you're looking for a new portable career to fit in with an overseas lifestyle – whether it's fixed or nomadic – and you think that you've got what it takes to write in a way that pays, then this is the book for you!
Free download from the Kindle Store!
To celebrate the book's launch, we're making it free for the first three days – you can download it from the Kindle Store from now until 0800 GMT on Monday 17 December.
Not got a Kindle?
Don't worry, you don't need one. There are several Kindle reader programs, plugins and apps available at Amazon that cover most computers and smartphones.
If you enjoy it, and would like to say thanks somehow, we'd really appreciate it if you could leave a review on Amazon too. Thanks!