A letter from expat author, Jake Needham. Anyone who has lived in Thailand or contemplated living there will find this fascinating—as indeed will anyone with an interest in Jake's novels, which are based in SE Asia. I did when I received it and Jake gave his kind permission for me to publish it here to share with our readers.
[Want to find out more about Jake? Read the interview we did earlier: British Expat's interview with Jake Needham.]
Friends and neighbors,
We're out of Thailand for a while, which gives me temporary license to stop being so depressingly realistic about the place and start romanticizing it again the way I did back in my very first novel some eighteen years ago…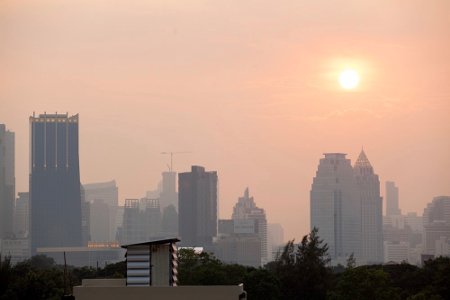 Some people said there was so much crud in Bangkok's air that you should walk on it instead of trying to breathe it, but Bar loved the way it made the sky glow just after sunset with a luminescent, mango-colored haze. Maybe that wasn't the reason why some of Bangkok's foreign residents called the place the Big Mango, but Bar always thought it should have been. Bangkok's twilight radiance was what kept him believing there was magic in the world. If the only price he had to pay for that was sucking up a little crap with his air, he'd pay it, gladly. From the window he could see all the way across the city to the Chao Phraya River, its dusky surface turning to pewter in the fading light. A long train of broad-beamed teak rice barges was drifting slowly downriver toward the Gulf of Thailand. They looked like a child's wooden toys embedded forever in a river of tin. Part Oriental alchemy, part Western jazz, John Coltrane played on instruments from another planet, there was something about Bangkok that defied time and disdained reality. That might be a romantic way to look at a city that hardly anyone else ever thought of as romantic, either before or after sunset, but that was the way Bar Phillips wanted to look at Bangkok, and that was the way he had looked at it for most of his almost forty years there. — The Big Mango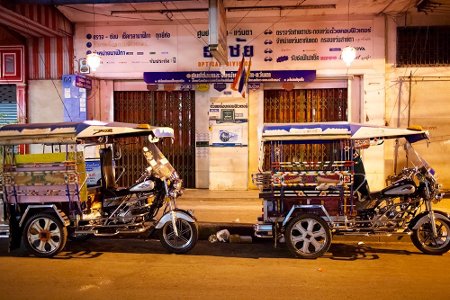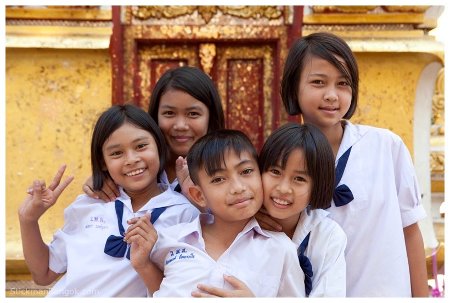 Those last two pictures have absolutely nothing to do with anything. I just thought I would throw them in since they remind me of some of the things I once loved about Thailand.
Okay, enough of the sentimental stuff.
Let me make up for it by throwing you a little useful Q&A about my next book…
Anything new?
Yeah, all three of the existing titles in my Inspector Tay series are now available in paperback. I know I've mentioned it before, but I figure it's worth mentioning again. The Umbrella Man, and The Dead American are available in print editions now for the first time ever, and The Ambassador's Wife is available again for the first time in three years. I advise you to buy copies of every single one of them right away before the publisher runs out. Or it's even possible you could score a copy of The Ambassador's Wife absolutely free…
How can I do that?
Goodreads (you do look at Goodreads every now and then, don't you?) is giving away 5 signed copies of the new paperback edition of The Ambassador's Wife, the first book in the Inspector Samuel Tay series, and I'd like for all of you to have a chance to win one of them. All you have to do is go to Goodreads via my website here and click the 'Enter Giveaway' link (I'd give you a direct link, but Goodread uses HTML code and I can't put that in an email). When you get there just enter your name and address on the Goodreads form. In May, Goodreads will choose five winners at random from among all those people who put their names in the pot, tell me who to inscribe the books to, and send the signed copies out to the winners a few days later.
A signed copy of The Ambassador's Wife just for putting my name in?
Yep. For five people. Would I lie to you?
When I asked if there was anything new, what I really wanted to know is what's happened to the next Inspector Tay book, the one you've been promising us since last year?
You'll notice I've been a little cagey about promising an exact publication date. All I've really said is The Girl in the Window will be out this year. You can't get much vaguer than that.
Seriously, do you know now when The Girl in the Window will be out or don't you?
I was originally aiming for this month, but it's going to be this summer. My guess right now is mid-July, the Good Lord willing and the creek don't rise (as we used to say when I was growing up in Texas). There are a lot of moving parts involved in getting a book out. Coordinating the schedules of designers, editors, proofreaders, and layout guys is harder than you might think. I'll give the readers of my Letters from Asia a heads up as soon as a firm date is set and The Girl in the Window is available for pre-order. It will be offered as both an e-book and a paperback at roughly the same time.
Can you tell us why The Girl in the Window is coming out later than you originally intended?
I finished the manuscript in December. I read it. I didn't like it. I started over. Simple as that. But I think you'll find it was worth waiting for.
Do you have any plans for more Tay audio books?
The first two Tay titles are available in audio editions — The Ambassador's Wife and The Umbrella Man. I'd like to see the other two titles out in audio editions as well, but the production costs for audio books are extremely high and Amazon offers so many discounts and deals on audio books that audio books produce very little revenue for the writer and the producer who have to bear all those costs of production. Honestly, we seldom average more than $1.00 per sale for a product that costs thousands of dollars to make. You simply can't sell enough copies to break even on production costs without a lot of support from Audible. I have no support from Audible at all. If that changes, the other two titles will becomes available in audio editions very quickly. If it doesn't, they won't. Simple as that.
Anything else?
That's it. Stay cool.
Jake
Please visit www.JakeNeedham.com to learn about
all of Jake Needham's international crime novels:
The Dead American
The King of Macau
The Umbrella Man
A World of Trouble
The Ambassador's Wife
Killing Plato
Laundry Man
The Big Mango
Buy the books!
You can find Jake's books in the Kindle Store:
Inspector Samuel Tay series
Jack Shepherd series
and the book that started it all off…
The Big Mango