[continued from Part One]
Butlin's
Kay had been to Butlin's several times as a kid and had memories of the classic holiday camp experience – mass-produced holidays churned out by the hundred thousand, from the wake-up tannoy call in the morning right down to the meals organised by sittings, and days and nights packed solid with fun-filled activities. I'd never been myself and was curious to see what the modern Butlin's experience would be like.
Booking the stay (a three-night deal covering Friday afternoon to Monday morning) was easily done online, barring a minor wrinkle over card verification. Self-catering was unavailable, so we went ahead and booked dinner, bed and breakfast in one of their Silver rooms – £158 for the three nights (you save £10 on the brochure price by booking online).
When I phoned to confirm the booking on the Friday morning I was told that the room would be ours from 1630, but that we could use the facilities from 1230 onwards. As it was, we arrived at Minehead rather later than expected, at about seven in the evening. (The camp's well signposted and was easy to find by road.) After a bit of a kerfuffle at Reception (our welcome pack hadn't been made ready as we'd booked so late), we were finally given our keys. Much, much later we made it to our room, almost as far away from the main entrance as we could possibly be. I'd never realised a holiday camp could be so big.
Accommodation
The room was pretty basic, but clean. A double bed filled most of it, together with a couple of bedside tables, a television and a dressing-table. But they did have tea-making facilities, at least. There was no towel in the shower room, but we'd seen the warning on the website that Butlin's don't provide towels so we'd brought our own with us. Opening the connecting door to the next room revealed it to be much the same, except that there were two single beds. A check with Reception confirmed that both rooms were ours. The major omission from our point of view was a fridge, but we later found that you could hire a mini-bar sized fridge for just £4 a night – worth thinking about.
Meals
We were just in time for dinner, which was served school canteen style in a vast hall and consisted of much the same kind of meals; nothing fancy. Breakfast (on the one time I managed to struggle blearily into the canteen) was pretty much as you'd expect a cooked breakfast to be, although cereals, porridge and toast were also on offer. Nothing fancy, but nothing wrong with it either – and portions were generous.
Other Facilities
Contrary to Kay's expectations, we found that there was very little regimentation about the free-time activities; there was hardly a Redcoat in sight. Maybe they've changed the uniforms! Certainly there was no presumption that we'd spend our every waking moment on the camp (although we did have to take a day pass with us when leaving to ensure that we could get back on again). Just as well – although there were quite a few things on offer, none of them appealed very much to us. They were aimed squarely at the family market. (In fairness, they do do adult-only holidays too.)
We spent most of our time on the camp in the arcade, on the tuppenny falls. (Funny how addictive putting your money into a machine can be, even when you know you're not going to get any of it back in the long run.) There was a bar, the Sun & Moon, but it didn't serve real ale, and was pretty expensive. We only went there once.
Eating and Drinking in Minehead
We found a couple of decent places we'd recommend visiting if you're feeling hungry or thirsty:
The Red Lion (Quay Street, Minehead TA24 5UJ)
A very comfortable and friendly pub, with lots of comfortable chairs, views of the Bristol Channel over the seawall (apparently the cellar's been flooded once or twice) and a very noisy parrot in the back room. The beer's good (Wadworth's 6X, Directors and others) and cheap. The food… We had no great expectations about it because, after all, it was a pub. But the menu looked reasonable. When we ordered, we had quite a while to wait – apparently the chef was late turning up – but the food was well worth waiting for; beautifully cooked, well presented, and astonishingly reasonably priced. My salmon was tasty, and perfectly done – browned on the outside, just slightly the right side of undercooked on the inside. Sadly, we can't remember what Kay had. (This is yet another one of our restaurant reviews where we forgot to take notes at the time.) But believe me, it was excellent.
Wheelhouse Snack Bar (41 The Avenue, Minehead TA24 5AY)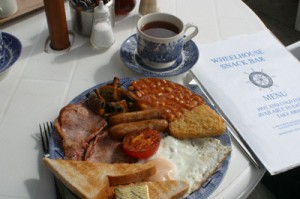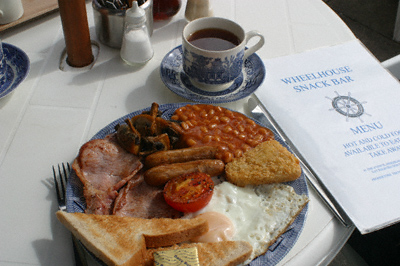 Compared to our last breakfast experience in the West Country (at the Fortescue Arms in Woolacombe – see Fishing for Compliments) this was manna from heaven. Two rashers, two nice sausages, fried egg, half a grilled tomato, tasty mushrooms, hash brown, toast and butter and a cuppa. All for a very reasonable £3.95.
Epilogue
On the way back Kay spotted that we were approaching a village called Beer. Obviously we simply had to make the detour to go and find it. Sadly, we must have driven right through it without realising – there was no village name sign. It must be tiny!
To console ourselves we stopped off at Wincanton again for another visit to Fernstrom & Farrell's for some cheese, and had a very refreshing cuppa at the ever-welcoming Cunning Artificer (thanks, Isobel and Bernard!).