(or Spot the Redcoat)
We'd nearly finished getting the house ready to put on the market, we were due for a break, and we knew there was going to be a beer festival in Minehead. So since we'd had a pretty good time on our previous visit to the West Country (see Way Out West), we decided to go.
Unfortunately it wasn't as easy as that – we decided on the Thursday, and the festival began on the Saturday. Internet searches turned up several hotels and guesthouses in the Minehead area (it is, after all, a seaside resort), but virtually all of them proudly proclaimed themselves to be non-smoking establishments. However, a bit more searching revealed that one of the three remaining outposts of the once-mighty Butlin's empire was located in Minehead – and that Butlin's still offered accommodation for smokers. The idea of staying there was too daft for words. How could we resist?
CAMRA 6th Somerset Beer Festival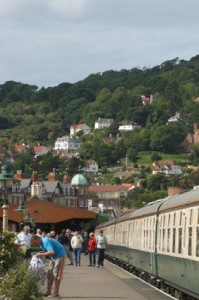 The Festival was held on the platform at Minehead Railway Station, which is a terminus on the West Somerset Railway (a heritage line running steam and old diesel locomotives). It was the first CAMRA festival we'd ever been to, so we weren't exactly sure what to expect. But at least we knew it was only a short walk away from Butlin's.
When we arrived at the station at Saturday lunchtime we found the platform was packed. An area in the middle of the platform had been enclosed by counters. Festival pint glasses were displayed for sale on the counter facing the entrance (you could also buy cheaper plastic ones, but it's never the same drinking beer out of plastic, is it?). Next to that, a couple of CAMRA volunteers sat at a table selling beer tokens – a sensible way of doing things, as it saved the bar staff having to fiddle about with change.
Behind them about half-a-dozen more volunteers were shuttling busily between the barrels and the thirsty festivalgoers waiting at the counter facing Platform 2. (Thoughtfully, someone had left carriages along the platform to prevent anyone falling down onto the tracks.) And so many barrels! There were well over eighty different beers and ciders, ranged three high on a steel rack and covered with wet glass cloths to keep them cool. From time to time one or other of the volunteers would spray the cloths with a plant spray to keep the evaporation going.
Some of the beers were familiar, of course – one of Kay's favourites, Timothy Taylor's Landlord, was so popular that it ran out midway through the afternoon on Saturday. And there were others brought in from elsewhere, including a couple of milds from my own neck of the woods, the West Midlands. But the vast majority were West Country brews, and very nice they were too. My own tip for Beer of the Festival came from Devon, O'Hanlon's Yellowhammer. Sadly, I only managed two pints of that before it finished – my second was the very last one out of the barrel.
Meanwhile, at the far end of the platform the trains came and went. Several of the more seasoned festivalgoers had brought those handy camping chairs, the foldaway canvas and steel things which have a hole in the arm to hold glasses. We had to make do with whatever we could find to sit on – which wasn't much. All the benches seemed to be taken!
Eventually we stood at the end of one of the counters and struck up conversation with a couple of very friendly, and very knowledgeable, pipe smokers. One of them had about two dozen pipes in a leather case. Kay asked him why he had so many with him. "Because I didn't have room for the other two hundred and forty I've got at home," he replied!
In summary, the Festival was well worth the visit. Even so, we were glad we'd turned up relatively early on the Saturday. Many of the beers were finished by early evening, and the Sunday opening only ran from twelve until four. Something to be aware of if you're planning to visit a beer festival…