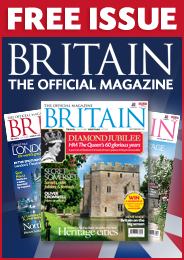 We all like a bit of nostalgia from time to time, don't we?
BRITAIN – The Official Magazine tells the story of the British Isles, from 1066 and beyond, right through to the present day. Each issue is packed with fascinating features, stunning photography and endless ideas of where to go, what to see and where to stay.
Here's some extra good news: the publishers of BRITAIN magazine are offering you the chance of a free preview of the digital version of the magazine. Better still, it's a bumper edition – to celebrate the London 2012 Olympics, there's a 32-page Olympic supplement to celebrate the biggest sporting event in the UK for over 60 years.
So if you're planning a visit back to Blighty, want to show your neighbours in your adopted home the best bits of the UK or just like reading about the places you left behind, why not check out BRITAIN magazine?
Click on the picture to claim your free issue!
(name, email address and phone number required)