– Living in Thailand: Part 2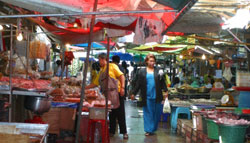 We soon found that shopping was easy. The local market is great for fresh vegetables as well as freshly-caught fish and seafood (much of it still alive), all at rock-bottom prices. The meat market is a bit smelly, with lots of flies! But nearby Pattaya has plenty of Western-style supermarkets if you hanker after fine French cheeses, Virginia ham or imported steaks.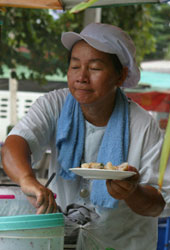 Cooking at home proved more difficult. Thai houses often have no kitchen, or just a two-ring gas burner. Fortunately, the city has plenty of eateries ranging from fine dining establishments and hotel restaurants through bar diners to mobile street hawkers. Thais love to snack on fruit, chicken and even insects!
Fun? Well, there are 30 golf courses within 20 miles – but neither of us are golfers. There are pub quizzes and bowling alleys, but most of the bars palled on us after a while – full of tourists fresh off the plane. But a friend pointed us towards Jum's bar, and we never looked back.
Jum, the owner of our favourite local bar, is a real gem – incredibly helpful, with a heart of gold. Bright, too; she's multilingual – beside Thai and English, she also speaks German to cater for the substantial German community here. Even in a country where the people are renowned for the warmth of their welcome and their willingness to help, she's outstanding.
As our first year in Thailand wore on, we realised with some trepidation that Songkran (the Thai New Year, in mid-April) was approaching.
Songkran as it's traditionally celebrated sounds delightful. It's a way of marking respect for family elders by pouring a small amount of scented water over the hands or a shoulder. Buddha statues from the local temple are paraded through the streets and sprinkled gently with water as a ritual bathing. It's a beautiful tradition, and all the nicer as April is Thailand's hottest month, with the sun shining from directly overhead.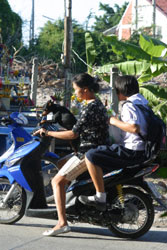 Sadly, it's all got out of hand in recent years. The gentle pouring of water has become a general soaking with buckets of water, "super soaker" water pistols and hoses. In extreme cases youths have hijacked fire engines and aimed their high-pressure hoses at passing motorbikes, sometimes with fatal results. (Each year several hundred people die in Songkran-related incidents.) No wonder that the Thai authorities appeal every year for a return to the traditional style of celebration.
We'd always avoided visiting Thailand during Songkran. Now that we lived here, there was no avoiding it.
Songkran in the Pattaya area is held one week later than in the rest of Thailand. All the bargirls go to their home villages for Songkran proper, then come back in time for the Pattaya celebration. (Many parents neither know nor want to know how their daughter is earning a living.) Nevertheless, even a week before Pattaya's celebration starts you can always find some over-eager farang has started early.