Pic of the Week – 16 January 2006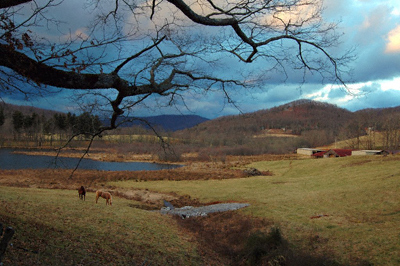 by Alan Hearnshaw © 2005
All images are digitally watermarked – please don't infringe copyright!
Alan adds:
"For the second weekend running, I've been up to the North Georgia mountains looking for a house to buy.
"I've been struggling for years here in Savannah to find any decent scenery (apart from architecture) to photograph. In contrast, the area I am looking at (Dahlonega/Suches) is even beautiful in the dead of winter. I've had to force myself to ignore the photo ops and concentrate on the job on hand.
"This shot was taken in Suches, which is a very small valley town at 3,000 feet in the Blue Ridge mountains and right on the Appalachian trail. I was flying about looking at property at the time, but couldn't resist this one at sunset.
"Ahh, you can keep your city offices – I think I'll come here and grow a beard!"
Visit Alan's website: Fine Mountain Living