I'm presently taking part in a major incursion into a country bordering Syria, and it's not the sort of operation I've experienced before. Fortunately, being but a simple member of the infantry, I'm not expected to have any degree of understanding for strategy or logistics. My main role is to be ready to hit the beach or occasional inland targets.
I can't tell you precisely where I am. This isn't a matter of secrecy. It's a consequence of my overall unfamiliarity with the local geography and the fact that most of the road signs are in Turkish. I don't know if they're hoping to direct me to the next town or a golf course. We're somewhere in Anatolia, but I never knew that referred to the entire Asiatic part of Turkey; about 97%. The only major resistance met when crossing the border was the requirement to queue for a visa at the airport. The woman behind the counter grimaced at New Turkish Lire and said she'd much prefer fifteen euros. We then overwhelmed passport control, found the troop transporter waiting in the car park and penetrated as far as a virtual place called Belek. As far as I understand it, the Mediterranean coast is a couple of miles south, the Taurus Mountains are shrouded in cloud to the north, and Cyprus is some distance east.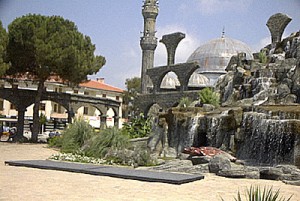 Our orders came in brochures, and one referred to Belek as a small village. As the place had never existed, this was somewhat misleading. Belek is both more virtual and larger than any village beyond the realms of complete fiction. It comes from the architects of incomplete fiction, and building work continues apace.
About fifteen years ago, the government decided mass tourism sounded like a good idea, and officially established the Turkish Riviera. An area starting around fifteen miles east of the city of Antalya was then predominantly an empty space on the map, and thus the perfect place to build forty or so large hotels. They added five golf courses and a gap in the middle was duly termed a village. That area began to attract various buildings and now declares itself to be the City Center.
Human settlements traditionally grow as a consequence of the available resources and needs of the local residents. I suppose Belek has done this too, if you appreciate that both the primary resources and the residents are in the hotels. In the modern world, people need to buy the essentials to sustain life, so shops were opened to sell leatherwear, jewellery and golf clubs. Restaurants and car rental were high on the agenda as well. The lack of local heritage was a blessing. It meant ruins and relics could be built from scratch.
The remains of a one-mile-long Roman aqueduct, which have never met any water apart from occasional winter rain, line the roadside and provide ancient gateways to nowhere in particular. These ruins were completed recently. The same is true for the one-eighth of an amphitheatre, which gives you somewhere to sit and admire the tasteful never-Greek non-temple to your left. On the right is a brand new limestone grotto, fitted with cascading waterfalls and containing public toilets. This is very convenient for the traditional-looking mosque behind; a building redolent with visual interest which has attracted faithful camera-clickers for perhaps a decade. Belek is generously endowed with historical architecture, none of which has had the opportunity to suffer from the ravages of much time at all. Every last moulded stone has been lovingly faked. And the same applies to the branded goods in most of the shops.
Much of the impetus behind the Turkish Riviera was provided by miles of Mediterranean beach backed by woods, forests and mountains. Personally, I'm not much of a fan of beaches unless they come with en-suite fossils. None are available here and, if it were otherwise, removing them from the country without a licence would be a crime punishable with imprisonment. Nevertheless, I forced myself onto a shady sun chair and even dared a dip into the warm water. This beach lacks other features besides fossils. You'd have to bring your own ice-cream, and seagulls and pigeons are conspicuous by their absence.
One unusual attraction is provided by the local police. When it comes to the beach, their main duty seems to be their discreet presence. Only unusually curious observers and wannabe terrorists are likely to notice them. On the first occasion, two officers were spotted strolling along the seafront. They then disappeared into the woods and returned a few minutes later armed with plastic chairs. After these were placed in the strategic shadow of a eucalyptus bush, the custodians of law sat down for a pleasant couple of hours. They were still contentedly chatting when we left.
On the next afternoon, which was a Sunday, only one officer was observed. He'd obviously learned from experience, as he walked along the front carrying a chair at the ready. Once it was correctly positioned, the policeman broke cover to attend to some pressing business on the beach. This involved drinking a quick cup of tea with some friends. Much refreshed, he returned to his seat with two bottles of mineral water and resumed work. Security is an important issue on the Turkish Riviera, and it's best maintained while keeping out of the afternoon sun.