A few more notes and comments
The Soho Bar gets a mention in our review of Farquhar's Bar at the E&O. This bar is situated in Jalan Penang and bills itself as George Town's best British pub. Well, it's not in the least British. The night we were there it was packed to the gunwales with Malaysians listening to music at ear-drum shattering volume. Urghh! Never again. Maybe it's just that I'm too old, so if LOUD music is your thing, the Soho Pub is definitely the place for you in George Town.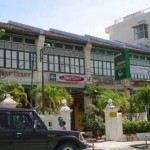 We visited the pub 20 Leith Street, which is opposite Cheong Fatt Tze's mansion in Lebuh Leith, and found the staff friendly and helpful and the beer not too expensive. It certainly is an interesting building but nothing to write home about really. The downside of this place is that it only has squatter toilets (not great for the balancing act after a few beers). The food wasn't great either; I ordered a "toasted cheese sandwich" which was a bit of a misnomer. The thin white bread was toasted on one side only and inside was a small slice of Kraft cheese (not melted) and great slabs of sliced tomato. Not very nice at all. But the main reason we don't plan to return was because, due to the air-conditioning being cranked up so much, it was like sitting in a fridge. When we mentioned the cold to one of the staff, she suggested that we bought one of the long sleeved T-shirts on sale at the bar. No thank you, and never again!