Sumbawa is a large island to the east of Bali and Lombok. It can be considered the beginning of Eastern Indonesia. In many respects Sumbawa can be considered somewhat remote, although it is getting easier to travel here. To get here from Bali you can take the ferry from Bali to Lombok, travel overland to the eastern port in Lombok and then take another ferry to Sumbawa. Alternatively, you can fly into the airports at Sumbawa Besar, Bima or Sekongkang on Merpati Airlines.
Sumbawa is known to some tourists for its great waves and sandy white beaches. Because of the somewhat trying process of getting there and the scarcity of cheap tourist facilities, the island is not really visited much by non-surfing tourists, which is unfortunate as the parts of the island that I have seen so far in my six-month stay here are quite beautiful. During the dry season, a lot of dust is blown up and around. Strong winds blow off the ocean, and we end up spending a lot of time every day sweeping out the apartment.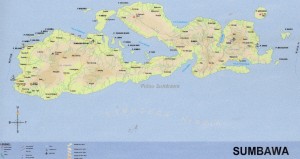 The pace of life on Sumbawa is definitely slower than that on Bali. As most of the island is still developing, there is a very rural feel to just about everywhere that you go. The big mining company, Newmont, has a gold and copper mine down in the south-western corner of the island. Their presence has speeded up the development process. There are now a number of hotels in the area, from the more upscale Hotel Tropical in Sekongkang to cheaper dwellings around Maluk and Sekongkang. We are presently renting an apartment at Yoyo's Hotel while our new house is being built in the village of Sekongkang. Yoyo's has a lot of space with a bar and restaurant on the beach. In spite of the fact that it is a hotel, herds of horses and water buffalo regularly wander through the hotel grounds in front of our apartment. Hotel staff regularly come and chat with tourists about what they are doing and just about life in general. It's a very laid-back feeling.
The village of Sekongkang itself is quite small, and a 15-minute walk will take you from one end to the other. Sekongkang residents generally do their shopping in Maluk, which is about 30 minutes to the north over a very winding road.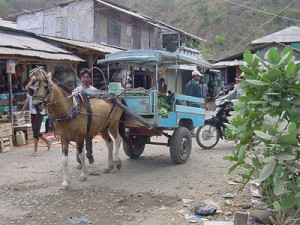 Maluk isn't really very big either, but it does have telephone facilities and the electricity supply is supposed to be somewhat more reliable than in Sekongkang. The market has basic supplies as well as most of the usual fruit and vegetables. If you like rustic markets, Maluk Market is made for you. If you get there early in the morning you can buy prawns, squid and fish for much cheaper prices than you will find in Bali or Lombok. You can attribute this to the lack of tourists here. The market is friendly, and if you bring your camera, shopkeepers will ask you to take a photo of them.
Maluk has a telephone office, so you can make local and international calls. There are bank branches for BRI and BNI. I have only used the BNI branch. They offer good services although the bank is usually full of customers. You can change money and get cash advances on your credit card. I got a cash advance on my credit card recently, and they said that it was the first time they had done it – it took a while, but eventually I received my money. The main street in Maluk also has a number of shops selling furniture, building supplies, the usual snacks and a limited variety of clothing. The closest petrol station is in Taliwang about an hour up the road, so you have to pay more than the usual price for petrol for your car or motorbike. It's cheaper to buy it in Maluk than in Sekongkang.
As I mentioned above, Sumbawa is a relatively large island, and we only live in the south-western corner of it. I've been to Sumbawa Besar several times, but only for short periods. Since I moved here in July most of my time has been spent moving between townsite and Yoyo's hotel and Maluk. We did make it up to Taliwang once to buy a refrigerator.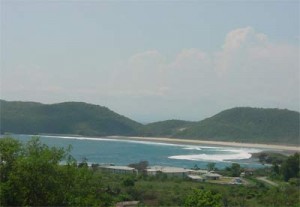 Taliwang is a fairly small place, so we are a good five hours plus from any relatively large city. The best shopping is actually on Lombok, which is the next island to the west. If you look at the large image of the map, we live in the bottom left corner. You can see two harbours: the first is Benete which is Newmont's port; the second is the one that the public uses. You can also see two airports on the island at Sumbawa Besar and Bima. A third airport is being built just down the road from us at Yoyo's. The hope is that it will increase tourism here, since it will make it easier for the surfers to get over here from Bali or Lombok.
Food
This part of Sumbawa is excellent for seafood. We routinely eat prawns, squid and lobster, which are plentiful and much cheaper here than in Bali. I attribute this, rightly or wrongly, to the lack of a tourist industry here. Locals buy the seafood here rather than at hotels, so the price is cheaper and the availability is excellent, unlike in northern Bali.
A local speciality here is venison. Deer are plentiful here in the hills around Sekongkang and Maluk. Local guys hunt them using dogs. Water buffalo are probably more plentiful here than sapi, cows. I became accustomed to eating water buffalo while living in Pakistan so I like the special flavour, although a number of foreigners don't really care for it.
There are a variety of fruit and vegetables available in the markets. Rambutan, which my kids really favour as we have a rambutan orchard in Bali, are not really grown here and are relatively expensive. Vegetables that we are accustomed to eating in Bali, like green peppers and lettuce, are difficult to obtain here. I buy mine at the commissary in Buin Batu, otherwise we would probably never get any as I have yet to see them for sale in the market in Maluk. In fact, a lot of things that we normally eat in Bali – cheese, peanut butter, Ritz crackers, olives – aren't available here, probably because of the lack of a large tourist industry.
Transport
Most locals take the public ferry when they want to get over to Lombok for shopping or whatever. I took my first trip on the ferry a few days ago when we took a trip to Lombok for shopping in Mataram. The trip from Sekongkang to the harbour in the north takes about 2 hours by car – I came back by ojek, a motorcycle taxi, and that took about 90 minutes because the driver was really moving. It was an interesting ride to say the least.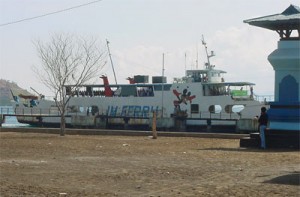 Back to the ferry. There is a big difference in the quality of the ferries that make the crossing to Lombok. It's basically luck as to which one you get. This one was not exactly the best of the lot; I took a much better one on my way back. You can drive your car or motorcycle into the ferry if you have one, and a lot of the surfers come on motorbike or car from Lombok or Bali. You can also walk aboard, but then you need to get transport into Mataram if that is where you are going. I paid 9,000 rupiah when I walked aboard. The price for driving a motorbike onboard is around 24,000 rupiah. The ferry trip is fairly uneventful if the sea is calm which it fortunately was during my trips this week.
Land transport is much more difficult to get than in Bali. Public transport exists but there are long waits for it and we often pick people up alongside the road who have been waiting for quite a while for a bus or bemo. Maluk and Sekongkang have horsecarts but they don't travel along the long stretches of road here and are confined to the villages.