Pic of the Week – 19 August 2005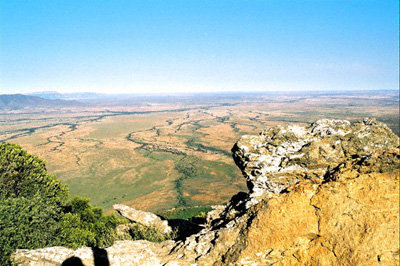 by Mike Kingdom-Hockings © 2005
All photographs are digitally watermarked – please don't infringe copyright!
Mike adds:
"South Africa has some superb wilderness that matches US parks – without the crowds. That's why we hire a pickup and take dirt roads some of the time (although van Rhyn's Pass is actually on one of the three tarred main roads going vaguely north/south). I feel guilty about not taking more pics, but it was a holiday, not a professional location shoot.
"One of the problems with things like the viewing area at the top of the pass is that it is difficult to get away from the rusty chicken wire erected to discourage tourists from taking a space walk. The choice of viewpoint is very limited."
You can find more of Mike's photos on his website:
This entry was posted in 2005 and tagged photos, South Africa by Mike Kingdom-Hockings. Bookmark the permalink.