Editor/Deputy Webmaster
Kay McMahon

After a brief career in the army where she reached the dizzy heights of lance corporal, Kay went on to get a degree in accountancy and then fail miserably as a trainee chartered accountant. Next, she had about 47 different careers until she eventually found her niche as an expat. Her first overseas job involved teaching book-keeping to Afghans but she suffered from the culture shock of working for Swedes.
Among other exotic locations, Kay has lived just down the hill from the Khyber Pass, where she enjoyed visiting the American Club – the only place within a 120-mile radius to serve bacon sarnies and beer. God bless America!
Since then, Kay has been incredibly successful at ending up in the places she least wants to go: like Iraq after the 1991 Gulf War. The countries she's ticked off [assertive or what? – chief sub-editor] are too many to list but here's a small selection: Pakistan, Kurdistan, Scotlandistan, Vietnam, Venezuela, Nepal, Sri Lanka, Jordan, and Kenya.
Kay completed an MSc in e-Business (distinction) in June 2005, thus proving that she doesn't spend ALL of her time in bars and snooker halls. If you've got nothing better to do you can read her thesis on http://www.flowtheory.com. Despite the name, the thesis isn't really about Flow Theory. It seemed like a good idea at the time.
Webmaster/Deputy Editor
David McMahon

Dave left school at the age of 30 with the odd O-level (like Ancient Icelandic) and a doctorate in something so obscure even he can't remember what it's about. He then joined the FCO. Dave has travelled to most European countries (including several that don't exist any more. Not that there's any connection… is there?), as well as Bangladesh, Barbados, Thailand, St Vincent, UAE, Laos, and many more. Having managed to escape from London in 2001, Dave's now resorted to taking unpaid leave to stave off the evil day of his return.
Columnists
(listed in order of joining the team)
Mike Clark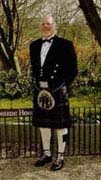 Mike discovered the joys of horticulture when, as a small child, he overheard a neighbour say she'd dropped a sixpence in the tattie patch. He has been digging ever since, with the tenacity of a true Scot, hoping one day to find a fiver.
Despite now running his own landscape gardening business, Mike claims to be permanently broke, due in part to his quest for fame resulting in writing gardening columns for free.
He likes trees, Jack Russells, and 12 year old Glen Ord, but not necessarily in that order. Gifts of any of these can be sent c/o britishexpat.com, but he would like to point out that the third item is by far the easiest and cheapest to post.
One of the highlights of his life was winning a toilet brush in a raffle. He persevered with it for ages, but he's back on the paper now…
Mike approaches gardening and writing with exactly the same formula. Throw in plenty of manure, and something good will eventually spring up.
Trevor Dykes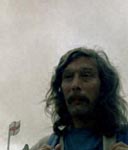 Putting the "in" before sanity, Dr Trevor Dykes, aged 42.09, is a starving humorist slaving away to almost universal indifference in the comedy mines of Franconia. Born in Bournemouth, he emigrated to Germany in 1992 to loud cries of Bon Voyage, relief and good riddance. He earned his Doctorate in Humour from the University Collage of Dipwytch, Dorset by paying fifty pounds. His special areas of study include: sleeping, West African e-mail fraud, mammals and near-mammals of the Mesozoic and the virtual village of Dipwytch.
Bob Fretwell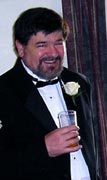 Bob started working life as a designer/draughtsman for BSA motorcycles in 1960. After six years they sold out to arch-rivals Triumph and Bob was made redundant along with 139 other draughtsmen. He continued with his love of motorcycles and racing and came second in the 1964 Belgian Grand Prix.
He once drove a LandRover to West Africa to donate it to a village… although Bob says it probably wasn't worth anything after the drive! After rising to become senior buyer for a very large international company, Bob got fed up of living work (goodbye, rats) and became a reverend, with ministries in Mexico and North America.
Doubts about his own beliefs caused Bob to leave the ministry and concentrate on writing and selling the (very) occasional painting. His only published novel (in 1991) failed to sell any copies as it was never actually released, although thankfully the company paid by the print run (40,000) and not sales.
Other jobs: raspberry truck driver in Washington State, language teacher, coconut oil maker, farmer, rabbit breeder (didn't have to do much there!) and, excruciatingly boringly, an accounts clerk for the NHS. He's lived in or visited various countries, including just about all European countries, most of Central America, a farm in Paraguay, Canada and Filey.
Former columnists
A couple of our earlier columnists have moved on to pursue other interests (like their careers, for example). We wish them every success, and they'll always be welcome if they have anything else they'd like to contribute in the future. For old times' sake, here they are:
Dave Stock aka Atoz: the first person in the world to write to britishexpat.com, and probably the last to send in his biog. After a few useful one-off contributions, Atoz started his irregular A to Z of cultural icons. At the time of writing this, he's up to "O" – but there's still no sign of the biog. (Update – he still hadn't sent it in by the time he'd reached "Z"!)
Emma King-Farlow: previously British Expat's gossip-monger extraordinaire and asker of life's extremely BIG questions, is now the Artistic Director of Shadow Road Productions, a small theatre company based in South West London. She has directed numerous productions in venues ranging from the smallest of pub theatres to the Palace Theatre on Shaftesbury Avenue!
She is also a traditionally published children's writer and a part time library manager – and still hasn't entirely given up on the plans for eventual world domination that were so close to her heart at the time she got her first official writing job at Britishexpat!
Web: http://www.emma-king-farlow.com/
Twitter: @ekingfarlow