An ecumenical matter!
Pic of the Week: 30 April 2013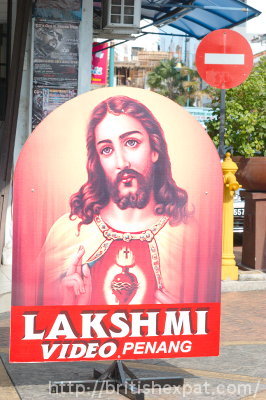 by Kay McMahon © 2009
Sacred Heart sign advertising the Lakshmi Video shop in George Town, Penang.
Kay adds:
"This sign somehow seems to sum up Penang's ethnic diversity very well. You've got a Christian iconic figure, rather bizarrely advertising a shop named after the Hindu goddess of prosperity, in a largely Chinese city in an Islamic state. Confusing, but Penang's people seem to rub along together well enough most of the time.
"Anyone who's a Father Ted fan will know where I got the title from!"
Kay has been an expat for nearly 30 years. She set up the British Expat website back in early 2000, whilst living in London and missing the expat life. These days she spends much of her time lugging computers and cameras around the world. (Dave gets to deal with all the really heavy stuff.)