Post Empire Penang
Pic of the Week: 31 January 2012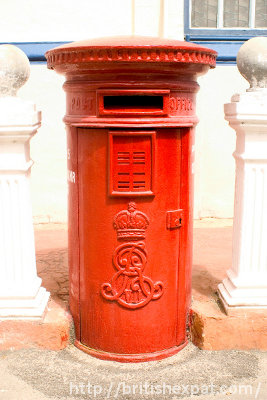 by David McMahon © 2011
A British-style pillar box – but this one is outside the Custom House in George Town, the main city on the island of Penang in Malaysia's Pulau Pinang State.
Dave adds:
"As you can see, this pillar box is still painted the traditional pillar box red colour and still bears the Royal Cypher of King Edward VII. (This contrasts with, say, Ireland, where the boxes have been painted green since 1922, or Israel, where the cyphers were ground off after the end of the Palestinian Mandate.) In fact, it's identical to the Edwardian pillar boxes in the UK except that it doesn't have a base.
"Although the concept for the photo was Kay's, she made me take it as it involved crouching in the road! If you look at the non-existent base of the pillar box, you'll see that it's standing in a recess in the pavement – the bollards on either side are on the pavement, but the pillar box is on the road. Bizarrely, the slot faces the road rather than the pavement."
Dave was bitten by the expat bug at the age of 13 when he went to live in Germany. Since leaving school at the age of 30 (with a doctorate in something so obscure even he can't remember what it's about) he's also lived in Bangladesh, India and Thailand, and travelled to most European countries (including several that don't exist any more, though he denies responsibility), as well as Barbados, South Korea, St Vincent, UAE, Laos, and many more.