Does this describe your ideal holiday: sand, warm sea, palm trees, hut on the beach? If it does, come and join me!
Little did I know when accepting a job in Malaysia three years ago that I would find myself living on a tropical island running a dive shop just two and a half years later. Unfortunately (or maybe fortunately!) the job didn't work out, but while living in KL, I got to know Tioman through friends. Several trips and many beers later, I was persuaded to come and look after the shop for the current owners while they travel in Central America for 12 months.
Malaysia is an interesting mix of cultures – a blend of Malay, Chinese and Indian, together with a whiff of remaining colonialism. The capital, Kuala Lumpur, is a great city to live in – not too expensive, safe, plenty to do, and plenty to see around the capital of this developing south east Asian nation. And a great climate. Having lived in Russia previously, I found it was a great pleasure to be able to sit in one of many pavement cafés/bars drinking a cool brew at 11 o'clock on a Friday evening!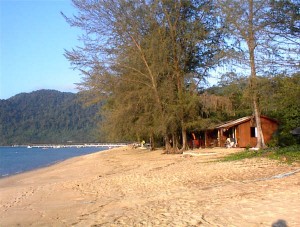 And being a diver, for me the well known diving location of Tioman was a natural draw. Once voted one of the 10 most beautiful islands in the world, Tioman was used as the location of the mythical Bali Hai in the '50s film South Pacific. The island has retained a lot of its charm – it is still relatively undeveloped – and has facilities to meet the needs of visitors with any budget. Accommodation ranges from the five-star Tioman Beach Resort (at around £50 per night), to low-cost wooden huts right on the beach – basic, but cheap (around £7-10)!
My main interest has always been in diving in Tioman, and the diving is generally excellent. Visibility during the summer can be as much as 50 metres or more, and the range of sites includes shallow coral reefs teeming with colourful tropical fish, to deeper sites where whale shark and manta rays have been spotted during their annual migration (October and April).
But Tioman has other attractions. As well as diving (leisure dives cost around £20 for one dive, including all equipment), there are many excellent sites for snorkelling, for those wishing to remain above the surface. Tours of the island take in waterfalls and deserted bays. For those wishing to remain on land, most of the island is covered by ancient rain forest, much of which is simply too dense to be easily accessible. The main trans-island path is well developed, but the more adventurous might like to take lesser known routes into the interior.
The island has a rich variety of flora and fauna, including snakes, mouse deer, wild boar and monkeys. A variety of fruits grow wild, including banana, mango and jackfruit. The Berjaya resort employs an environmental officer who can introduce you to the some of the main attractions – and you can watch him feed the 2-metre monitor lizards, sea eagles and other wildlife in the mornings at the resorts' pond.
And the resort even has an 18-hole golf course (narrow – wayward shots end up in the jungle or the sea!), which is open to non-residents, and tennis courts.
Being an isolated tropical island does have its drawbacks. Unless you are traveling from KL by air (twice daily for £60 return), you have to take a bus from KL to the east coast at Mersing (roughly 4-5 hours), followed by a 2-3 hour boat ride.
The island economy is mainly based on cash, and only the resort accepts credit cards. There are no cash machines on the island, so visitors need to bring plenty of the folding with them. But it is worth it.
During the main season, days are warm and sunny, with occasional rain the afternoon to cool things off a little. And life is slow – even the most frenetic of my friends from KL manage to relax and unwind when they come here.
So come and visit. We are only too glad to arrange not only diving, but accommodation and other activities as well. Look forward to seeing you.