President Palace Hotel, Bangkok
President Palace Hotel
18 Soi 11 Sukhumvit Road
Klongtoey Nuea
Wattana
BANGKOK 11010
(BTS: Nana)
On our most recent visit to our favourite soi in Bangkok, we tried yet another different hotel: the President Palace Hotel.
It's owned by the same people that own the Grand President serviced apartments just a little bit further along the soi. But this is unambiguously a hotel and not an aparthotel – the rooms are just that and don't have any kind of kitchenette or separate sleeping area.
The room we booked was a Superior room, at the bottom of the range. But it was clean and comfortable, with all the usual facilities you'd expect from a hotel in the PPH's price range. The king-sized bed was just that, and was supportive without being unyielding. The little flexible reading lights were a nice touch, as were the independent lighting controls on either side of the bed for the bedside and room lamps (a single master control panel on one side only is rather annoying).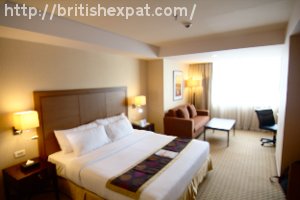 Joy of joys, we were each given our own login to the hotel's free WiFi network without having to ask for the separate access, and they worked without any problems at all. That's very unusual in our experience, so full marks to the President Palace for that. As usual, Kay bagged the desk, and was pleased to find that the office chair supplied was extremely comfortable – if a little hard to wheel around on the carpet.
One slight niggle about the room layout was that although there was a settee and coffee table, the television was plonked in front of the bed – just out of shot in the photo. This layout's not uncommon in hotel rooms, but is rather annoying if you want to sit and watch telly with a drink and some nibbles.
The minibar fridge was a bit on the small side compared with the aparthotel fridges, but was within usual ranges for minibars. No freezer compartment, though, so there were no ice cubes. We could maybe have tried getting some from room service … except room service (supplied by the Champions Restaurant Bar on the ground floor – formerly the Manchester United Restaurant Bar) was a disappointment. All-day dining is billed as running from 1100 to 0500, but when we phoned to order a pizza at a quarter past midnight we were told that the vegetarian pizza we wanted wasn't available and that they only had Hawaiian or ham and mushroom pizzas. (We went out to the Old German Beer House instead, which fortunately was still taking orders for meals even as late as that.)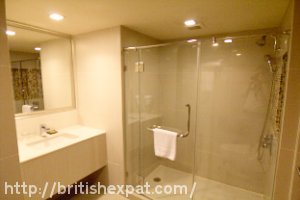 The bathroom didn't have a bath, although it was plenty large enough to accommodate one. We'd been well aware of this at the time of booking, though – in fact, we'd chosen the PPH on that basis. Instead of going down the all-too-common route of supplying a bath and forcing you to clamber in and out of that if you want a shower, the President Palace provides a shower cubicle, with fixed and flexible shower heads. A good strong flow of hot water, too, and pleasant-smelling toiletries. Hooray!
The breakfast buffet (again at Champions) was a pretty typical international breakfast buffet for hotels in South East Asia. Selections were somewhat limited on some stations (eg the fruit station consisted of just papaya and honeydew melon), but reasonable on most. Service was very friendly, although it amounted to welcoming the guests and bidding them farewell and keeping the supplies maintained. Not bad, and worth going if you're up in time and feel hungry, although we wouldn't make a special effort to be up in time for it.
(There's a fuller review on our sister site, Not Delia.)
The staff were pretty good – friendly and cheerful. Check-in and check-out were dealt with courteously and efficiently. Our one niggle was that they phoned us up on our first two afternoons to check whether we wanted the room done, even though we'd turned on the "Do not disturb" light. (Quite a few places seem to do this, and it's very annoying.)
Overall rating: 3½ out of 5
It's not the cheapest place to stay in Soi 11 by any means, nor the best-appointed. But it's reasonable value for money, and does offer some signal advantages over other places in the same price range. We'd happily stay here again.
Book Bangkok hotels NOW with Agoda!