Istanbul: where Europe meets Asia
What else can I say but that I have fallen in love with this city and its people? Istanbul is so many things in one: a meeting place of cultures eastern and western, a historic battleground of Greek, Roman, Persian, Byzantine and Turkish empires, and a thriving metropolis with modern lifestyle and chaotic traffic.
Istanbul is the unofficial capital of Turkey, and the only city that can claim to be part of two continents, Europe and Asia. At already over 15 million inhabitants, it still keeps growing at the speed of light, as you can see from the 600 new car registrations every day.
And yet Istanbul still has its quiet places, untouched by the hectic ongoings in the city, and undiscovered by the self-declared travel gurus of the Lonely Planet and Rough Guides. Be it a melancholic reminiscence of the old Constantinople in a silent spot on the Theodosian City Wall, or a moment of reflection in a small mosque on the Asian side, Istanbul provides plenty of space for inner and outer journeys – far more than could be covered in this article.
Follow me on a tour of Istanbul's hotspots, but be sure to leave some time and space for your own detours, discoveries and encounters.
Sultanahmet District
Sultanahmet is where all sightseeing excursions start. Albeit extremely touristy, this district includes several architectural monuments which are not to be missed. At the centre of Sultanahmet is the historical triangle of the Blue Mosque, Saint Sophia's Cathedral, and the Topkapi Palace.
The Hagia Sophia (Cathedral of St Sophia) represents the different periods of mediæval history in Istanbul like no other place. It was built in 537 as the centre of the Byzantine Church. In 1453 the inhabitants of what was then called Constantinople gathered in St Sophia's, praying to God to save their city from Turkish occupation. After Constantinople nevertheless fell to Sultan Mehmet, St Sophia's was used as a mosque for five centuries, until Kemal Atatürk turned it into a museum in 1934. The result is an interesting mixture of styles in St Sophia's: you can still see the wonderful golden mosaics of the old Christian church, but all the sculptures and paintings of Christian saints have been removed and replaced by Muslim symbols.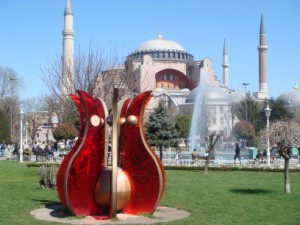 Sultan Ahmet Camii (the Blue Mosque) stands just across the street from St Sophia's. When this mosque was built in 1609, Sultan Ahmet wanted it to be even larger and more beautiful than St Sophia's. This shows in the picturesque interior, which is decorated with blue and white enamel tiles with flower symbols. However, the Blue Mosque has never left the great impression on me that other travellers report. Maybe that's because its size and the constant flow of visitors mean that it fails to inspire a reverential atmosphere. Nonetheless, the Blue Mosque is a fantastic piece of Ottoman architecture, both inside and outside.
The third and most beautiful monument in this area is Topkapi Sarayi (Topkapi Palace). This place is so rich and diverse in architecture and artwork that it is hard to put it into a few words for this article. The palace embraces an area of over 170 acres, which includes numerous courts, yards and gardens, two museums, and almost endless numbers of halls, saloons, libraries and harems. Gold and enamel decorations, mosaics, colourful carpets and breathtaking jewellery collections are among the many attractions to be discovered at Topkapi Palace. You should reserve at least half a day for an excursion to this place.
Off the beaten track: If the tourist bustle around the Blue Mosque is not your kind of thing, then Sultan Suleymaniye Camii may be more to your liking. This mosque, half a mile northwest of Sultanahmet in Beyazit district, is almost as beautiful as the Blue Mosque, but far less crowded. You may also like to explore the outer parts of Sultanahmet around the Hippodrome. Stroll around small old streets and markets, discover the remains of the Forum Romanum around the Constantine Column, or pay a visit to Cagaloglu Hamani, Istanbul's oldest Turkish bath. And the Grand Bazaar is just a few steps away.
Advice: Throughout your excursion in Sultanahmet district, you may feel harassed by carpet dealers all over the place. You'd do better to ignore the ones on the street, but feel free to enter some of the carpet shops. You may have a look at some beautiful textiles over a cup of tea which is usually offered free (rejecting it is regarded as an insult) and you don't have to feel obliged to buy anything.
Galata and Beyoglu
The Golden Horn bay separates Sultanahmet from Istanbul's second historic centre, Galata and Beyoglu districts. Once you have crossed Galata Bridge, you enter a different world. No more great squares and splendid Ottoman architecture; instead there are small steep alleys, surrounded by mediæval houses and the remains of the old Genoese city walls. Indeed this quarter was built by Genoese salesmen in the 10th century and very much resembles a mediæval European town.
Halfway up the hill to Beyoglu stands Galata Tower. This is my favourite spot in Istanbul, for it provides one of the most beautiful views in the whole world: a panoramic round view of the Bosphorus, the Sea of Marmara, and the European and Asian parts of Istanbul. On a clear sunny day, you can see as far as the Princes' Islands in the middle of the Sea of Marmara. The view is most beautiful just before sunset, and you can finish your visit with a meal in the top floor restaurant, although this is a tourist trap and rather expensive.
As you climb up the hill, you pass by Galatasaray College and enter Beyoglu, a modern district with shops, bazaars and bars. One of my favourite stops is the Flower Bazaar where, apparently, you can buy everything except flowers. Most of this market is occupied with food stalls which exude the scents of the oriental cuisine. One side-wing is filled with shops selling artwork, textiles and jewellery. Once at the Flower Bazaar, you should eat Istavrit, tiny fried fish which is eaten like crisps. Or try a glass of Turkish aphrodisiac which looks like honey, but is made from almonds and nuts.
The pedestrian zone takes you all the way to Taksim Square, the centre of Turkish nightlife with loads of bars and clubs. And a bit further north follows Sisli district, home to all the posh international hotels like the Hyatt, the Hilton and the Inter-Continental.
Off the beaten track: Beyoglu has its own small Bosphorus harbour, Kabatas. Boats depart from here to the Virgin Tower, which stands on a rock in the middle of the Bosphorus. The Virgin Tower was only opened to visitors in Autumn 2000, and a museum will soon follow suit on this site. The view from the Virgin Tower is one of the most spectacular in Istanbul, and a prime insider tip. Although the Lonely Planet mentions it in its March 2001 online update, it is yet to appear in any printed travel guide, and thus completely tourist-free.
The Bosphorus Suburbs
North of Kabatas harbour stretches the Bosphorus with its splendid coastline on the European side. The slopes of the hills which form Besiktas district lead directly to the waterline of the Bosphorus. Situated in this beautiful setting are Istanbul's two most magnificent city estates, the Dolmabahce Palace and the Ciragan Palace. The latter was transformed in the '90s to house the Kempinski Hotel. This and the Swissôtel which also lies on the slopes of Besiktas are the two hotels in Istanbul which may call themselves members of "The Leading Hotels of the World" group.
North of Besiktas and directly underneath the first Bosphorus bridge lies Ortaköy, which locals call "The Village". Ortaköy is comprised of small streets with several nice antique shops, but its centrepiece is the square right by the Bosphorus. This square always reminds me of what the main square at Montmartre in Paris must have been like before it was overcrowded by tourists: painters who capture the scene on canvas, young street performers, and children playing between the trees. The square is surrounded on one side by the Bosphorus and a mosque built close to the water, and old houses and fish restaurants on the other. The posh and expensive downtown gourmet temples aside, the small restaurants in Ortaköy are among the best places for fish in all of Istanbul.
Next comes Bebek. This district has two sides to it: uphill Bebek is home to Istanbul's largest shopping centres, expensive restaurants and stylish bars – the en vogue place for young Turkish professionals. But down here by the Bosphorus Bebek is quieter, with nice small street cafés lined up along the seaside promenade. Bebek is also the preferred living quarter of Istanbul's elites, as you can see from the beautiful Bosphorus villas and the four-wheel-drives parked in front of them.
The peninsula north of Bebek marks the narrowest part of the Bosphorus and is overlooked by the mighty castle of Rumeli Hisari. Below the castle is a small marina with some of Turkey's finest yachts. From here on, you can drive another ten miles up the Bosphorus, almost all the way to the Black Sea, until you reach a military security zone north of Belgrade forest. One village on the way which deserves special mention is Sariyer. Even better than Ortaköy, Sariyer has some excellent fish restaurants, but in simple settings. You can be sure of being the only foreigner dining there, but so far out of town you are unlikely to find English-speaking waiters, so only go there in the company of Turkish friends.
If you have an extra day left, you may like to take a boat tour along the Bosphorus. It takes you on a zigzag course to all the small harbours up and down the European and Asian sides. This is a truly relaxing experience which lasts around four hours.
Off the beaten track: As you may have guessed from the description, all of the Bosphorus suburbs are "off the beaten track". Not that they cannot be crowded at times, but those who stroll around here are all locals. Apart from a few tourists in the know in Ortaköy, you won't find any foreigners in the Bosphorus suburbs. The same goes for the whole Asian side. And the further north you get on the European side, the more off the beaten track you will be.
Dining and Nightlife
Istanbul is a perfect place for fish eaters. A good choice of local fish would be sole, swordfish, sea trout or, in the spring, turbot. In Turkey fish is usually served grilled and without any sauces in order to keep the original taste, only with lemon, garlic and red onion. You should also try the octopus salad as a starter. The local Cankaya white wine goes well with the fish, and so does Rake spirit mixed with water (no ice!).
As for meat, of course you must try the typical kebab (lamb), which comes in dozens of varieties, grilled, baked or cooked. Once you get tired of Turkish food and want to try something completely different, check out Rejans, a Russian restaurant on Beyoglu pedestrian zone. Rejans serves one of the best borshch soups west of Moscow, plus a superb duck that feeds two, and the vodka is served by the bottle.
Read my article An Oasis of Luxury for recommendations on Istanbul's arguably best (and most expensive) restaurants and hotels.
As for nightlife, you can choose between two areas: Bebek and Beyoglu.
Bebek is the party place for the young educated Turkish elite who usually speak English and are very friendly to open-minded foreigners (but you won't find many foreigners here). The whole area is packed with European and American style bars. One of the current en vogue bars is the Barrio Latino which does excellent cocktails. You can also eat here, but I wouldn't recommend it for that.
More typically Turkish choices are available in Beyoglu and around Taksim Square, although you will run into other tourists here. Next to the Flower Bazaar on the Beyoglu pedestrian zone, the Çiçek Pasajr (passage) includes a dozen of typical restaurants and bars. Just around the corner from the Flower Bazaar is Pano Sakophanensis, a Greek bar with excellent wines and small snacks, which is very popular with the local youth as well as with expats. The place is always packed at night and you might have to queue for a while before you get a table. But it's well worth the wait.
Club Tip: My favourite club in Istanbul is the Andon, 89 Siraselviler Caddesi, a side street of Taksim Square. Spread over four floors, it includes a disco, pub, wine bar and tavern. The best place for a drink and a light meal is the tavern on the top level, with a perfect view overlooking the Bosphorus.
Warning: This is addressed to males travelling without a spouse: Don't let yourself be dragged into one of the belly-dancing bars around Taksim Square. They are experts at stripping your wallet and despite the promises by sweet-looking (mostly Russian) girls, you never get anything in return.
Shopping
Akmerkez is Turkey's largest shopping mall, which was voted "Best Shopping Centre in Europe" in 1997. It is situated in the centre of Bebek and includes around 140 designer shops at regular prices similar to those in central Europe, but has special offers all year round. For more original Turkish products, you can buy anything everywhere at good quality and prices, as long as you stay away from the tourist areas and favour the small bazaars over the big ones. Popular souvenirs are carpets, textiles (be aware of pirate copies of big brands) and jewellery. You can also have your own suit handmade at many shops in Beyoglu.
Travel literature
The international standard book on Istanbul is Strolling through Istanbul. A guide to the City, by Hilary Sumner-Boyd and John Freely. There are currently two editions on the market, from 1975 and 1987 respectively. At £25 it is rather expensive, but worth every penny. You might be able to obtain it from a second-hand book shop, I got mine for £6 (new edition). Although Boyd's and Freely's promenades through Istanbul date back to the 1970s and '80s and are thus a bit outdated, they are still an indispensable guide for everyone seeking an insider's view of Istanbul.
A very good tourist guide is Dorling Kindersley's Eyewitness Travel Guide Istanbul, for £12.99 (latest edition: 1998). Its 3D technique provides a view of the monuments and city districts as they appear on the ground. But, as often with the DK, the practical tips such as restaurants and hotels are pretty useless.