Never Mind Bahrain… Here Comes Abu Dhabi
"Marhaba". That's a frequent greeting you'll hear in the Gulf and it means "welcome" in Arabic.
The fascination of Abu Dhabi for me is a simple one – wander through the back streets where the perfume shops, gold shops, crafts and spices all mingle together. Visit the clothing shops with material from all over the world made up into exotic gowns for local women. Try the local foods – fatayer, which are pastries made with cheese, tomatoes, honey and chicken, or shwarmas, chicken or lamb roasted on a spit and served in pitta bread. Meander along to the shisha cafés where you can sit with locals smoking hubbly bubbly – fruit-flavoured tobacco through a water pipe, so refreshing – or try mint tea, good for the digestive system.
Abu Dhabi is one of the seven emirates which make up the United Arab Emirates. It is the largest emirate, the capital and the one with the oil. Dubai, the second emirate, is more well-known due to its tourism industry. The five other emirates are in general poorer – Ajman, Fujairah, Sharjah, Ras Al Khaimah and Umm Al Quwain. The Arabian gulf coast has many offshore islands, coral reefs and salt-flats which make for a spectacular landscape.
It would take a year to try out all the restaurants in Abu Dhabi, and certainly, the range of food reflects the cosmopolitan nature of the place, ranging from Sri Lankan to Indian, Chinese, Moroccan, Arabic, French, Arabic – you name it, we have it here. Prices also vary, from the cheap Arabic restaurants where you can enjoy a simple meal and pay next to nothing, to the hotels, which are much pricier, serving gourmet food, similar to Europe, and as a bonus you can drink alcohol. Unlike Saudi Arabia, the Emiratis are more flexible in their understanding of our drinking culture.
Hotels range from three-star cheaper Arabic style to the five-star plus, the hotel chains are here – Sheraton, Le Meridien, Millennium, to name a few. Yes, they are grand, but their prices reflect this and they still seem to aim at the business traveller or the relatively rich. Recently some of the older hotels, like the Gulf Hotel and Khalidia Palace hotel, have been pulled down or re-furbished, to prepare for the new influx of tourists next summer. The Abu Dhabi Tourist Authority is preparing itself for package holiday tourists en masse, which puts us directly in competition with glitzy Dubai.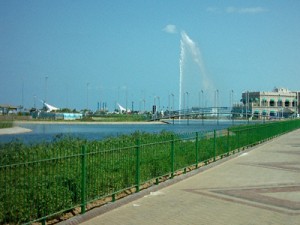 Weatherwise we are blessed with a warm breeze from the Arabian Gulf. Abu Dhabi itself is an island, although the largest part is stark desert inland. On an evening, people stroll up and down the Corniche (promenade) where you can just sit and relax under huge white canopies as the sun sets, or for the more energetic rollerblade up and down. This is a newly-developed Corniche with play areas for children, a big improvement on the old Corniche, which was looking shabby, so a thumbs-up to the Government.
Winter months are cool but pleasant, temperatures ranging from 10 degrees plus; this is definitely the best time to make a visit. As we move into spring time, the temperature heats up, and humidity kicks in, but still it is bearable (20 degrees plus). However, come June we have the fierce heat and humidity which lasts through the following months, a time when most residents choose to take a long summer break elsewhere.
Most sports can be found here – from jet skis, windsurfing, skiing, sailing (the latter at private marinas such as Abu Dhabi International Marine Club), golf clubs, of which we have three presently, all of a high standard and in beautifully landscaped grounds. We have a golf and equestrian centre so when you tire of the teeing off, slip up to the racecourse and admire the Arab stallions as the international jockeys prepare for a race. You will also find the royal stables here.
So if all that hasn't enticed you, what about the desert activities? A tour guide will take you into the desert with jeeps and 4x4s and show you some dune bashing (like rollercoasting and just as scary) or driving through wadis (dried up river beds) or just sit under the stars, with Arabic food, taking shisha and some Arabic entertainment like belly dancing.
The Abu Dhabi of five years ago has undergone a radical change and we are gearing up for the tourism industry. You will be assured that a warm "Marhaba" will await those who enter these Arabian shores, as hospitality here is the best in the world.