Snake Oil! How "Make Money Online" scams work …and how to avoid them
We're delighted to announce the publication of our latest eBook, Snake Oil! How "Make Money Online" scams work …and how to avoid them by Kay McMahon and Theodore Koukouvitis. This book is a must-read for anyone who is interested in making money online. Even if you're not bothered about making money online yourself, you should find it fascinating to take a peek behind the scenes into this industry of selling snake oil. Of course there are plenty of legitimate ways to make a living online, and we outline some of them too, but the purpose of this book is to explain the scams, how they work, how to spot them and how you can avoid them.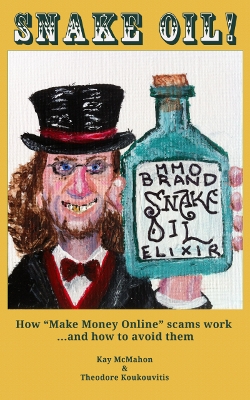 All too often the "make money online" (MMO) industry is a dark pit full of confidence tricksters and scammers all vying to part you from your cash. We explain about the myths which prevade the MMO industry, the cult mentality of it, the traps set for the unwary, and the common traits of these scams. We explain about the MMO gurus, and their dirty tricks, and how dangerous it can be to get involved with these people.
If you'd ever wondered about how people make money online, then you should definitely read this book. You'll probably find it a real eye-opener.
Download the book free!
To celebrate the launch of the book, we're giving it away for the first three days. Starting from Thursday 15 November at 0800 GMT, you'll be able to download it from the Kindle Store for diddley-squat.
But get your skates on, because after 0800 GMT on Sunday 18 November you'll have to pay for it. Not that that need worry you – it's only a few quid. Still, it's nice to have free stuff, isn't it?
If you have the time, we'd appreciate it if you could rate or review the book on Amazon too – it's always good to have feedback. Thanks!
Not got a Kindle?
Don't worry, you don't need one. There are several Kindle reader programs, plugins and apps available at Amazon that cover most computers and smartphones.