It was one of these holidays that didn't exactly run to plan. When we rented a house boat on the Canal du Midi for a week, we imagined sunning ourselves on deck and pottering about on the canal. In the evenings we would stroll to canal-side hostelries to quaff fine wines and scoff gourmet food at rock bottom prices. Yeah, and pigs might fly too.
We'd got the smallest type of boat on offer, the "enormously popular" Kingfisher. Well, its popularity was the only enormous thing about it but it was adequate, and really pretty good for its size. It had a good little shower cubicle, a wc, a double berth, and a table with seating area. It also had a small kitchen area, which was very well equipped with a decent little cooker and fridge – just as well as it turned out.
We went at the very start of the season, in April, in the hope that the weather would be good and the canal uncrowded. It was uncrowded, hence all the hostelries not yet being open for the season. As for the weather, we learned a new word in French very quickly – orage!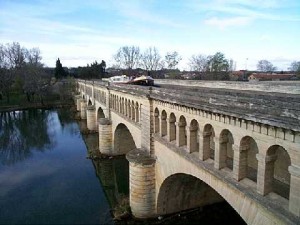 Thus we spent most of the week sheltering from violent thunderstorms in our floating caravan. When we did venture out for a couple of beers, having berthed at a recognised and reasonably busy berthing area, we returned to find that the boat had been burgled in our absence. We hadn't left much of value on the boat but they'd taken a bag of clothes, presumably to carry away the loot, among other things including our toiletry bags. The French police were charming, and even complimented us on our choice of wine. It is only in the movies, they informed us, that policemen don't drink on duty.
The next day, we continued on our way, knowing that at some stage we would have to go into town and make a full statement about the crime. When we arrived in Béziers harbour, a police car was crawling around. They spotted us, waved us in and promptly arrested Dave. At least that's how it must've looked to passers-by. What really happened was that they said they'd be grateful if he would go to the police station with them to fill in some forms and then they would return him to the boat. It saved us a lot of hassle and it was done within an hour.
When we reported the inadequacy of the door lock to Crown Blue Line they responded that if we'd had a stronger lock, the thieves would've just broken the windows to get in. Right then, probably we shouldn't have bothered with a lock at all to prevent that from being damaged?
Add all this lot to the fact that canal-boating can be very strenuous, especially going through seriously big locks with a two (not very fit) person crew. (The minimum for a comfortable manoeuvre is three.) It wasn't really what we'd expected.
Despite everything, we would consider this type of holiday again as much of it was very enjoyable. Perhaps next time we could go in convoy with another boat or maybe even with others on a larger boat.
To sum up, it's worth a go but do watch out because there's a lot of dogs in France. And I was not best pleased when handling the boat ropes to discover that Dave had trampled dog pooh into them.
A week's boat hire – normally Saturday to Saturday, but can run from Friday or Monday as well – will set you back anything between £400-odd for a two-berth boat in the low season (early April, late October) and £2,000-plus for an eight-berth monster in the peak season (early July to mid-August).