Clarkie's Orkney Tour – April 2005: Part 2
(Continued from Part One)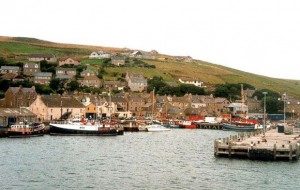 And so to Stromness, Orkney's second town, for a much-needed sandwich and an overdue pee. (Note for Aberdonians and Yorkshirefolk – Kirkwall PCs charge; Stromness PCs are free.)
Stromness is sheltered from the west, and thence from the prevailing wind, and with the sun shining it was an absolute pleasure to wander through the tiny streets. It is so narrow, you expect it to be pedestrianised, but every so often you have to clamber into a doorway to let a car past. Vans with dents and scratches on the sides are everywhere.

And sometimes you're just so glad you didn't leave the camera in the car. The lazily-grooming Stromness moggy was my pic of the day.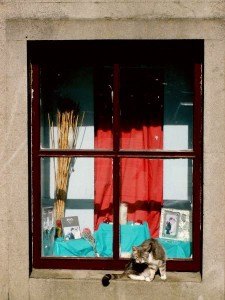 As ever on a day trip, you run out of time. So already in Stromness, we were checking watches and reminding ourselves of the departure time of the last ferry. The tour guide took an executive decision. You cannot visit Orkney without seeing Skara Brae, even if it means missing out Kirkwall on the mad dash back to the ferry.
Skara Brae pre-dates the Pyramids. Skara Brae has been described as the most perfect Stone Age village in Europe, and has been remarkably well preserved in the sand which covered it for so many centuries.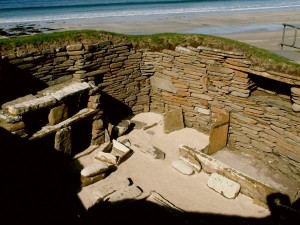 A Neolithic village of the period 3100-2400 BC, Skara Brae was buried in a sudden sand storm, forcing its inhabitants to flee, and leaving their belongings scattered behind them. It remained buried until a storm in 1850 exposed parts of it. The settlement was then excavated in 1932.
The village consists of a group of ten huts, and the furnishings within, including cupboards and box-beds, are all made of flagstone. There are even flagstone-lined water tanks set into the floors. These were probably used for keeping shell-fish (the staple diet) alive and fresh. The individual huts were connected by covered passageways, and an intricate drainage system was uncovered beneath the entire complex. Within the site is a paved communal courtyard, and the whole layout suggests that the people here lived as one large extended family.
The extensive middens revealed remains of sheep, cattle, deer and wild boar, as well as fish and shellfish. Other finds include the remains of wooden tools, rope, pottery and wall-etchings. Remains of stored grain have also been discovered, all of which points to the existence of a self-contained, self-sufficient community at Skara Brae.
We had to compliment Historic Scotland on their visitor centre, with its exhibitions and audio-visual displays. I'm not the biggest fan of turning our historic sites into tourist circuses, and I remember fondly my last visit here, when there was a wee sign off the public road, a wee grassy patch to park the car, unrestricted access and self-interpretation. And a Wallace Arnold coach trying to get out of a ditch, having over-estimated the turning area. But credit where it's due – HS have done a good job here.
There was nothing else for it now, though. I'd wanted to go back the long way round, via the Broch of Gurness. But not only was that out of the window, so too were stops at Kirkwall and the Italian Chapel. It was a mad dash for the old Claymore.
The feedback from the guests was positive. It's not how much you see which matters, it's how much you enjoy what you've seen.
But the moral of Clarkie's Orkney Tour 2005 is simply this – whatever you think you can do in a day, halve it, then halve it again.
Better still, have a week on Orkney.
And before you go, check out the Orkney Tourist Board's website.
© Mike Clark 2005