or "been there – dome that" (as the Dome's ads say)
[The Dome permanently closed its doors on New Year's Eve 2000, but you can still read about what you didn't miss!]
The Millennium Dome has caused a lot of controversy. First, it was the amount of taxpayers' money that was spent on it; then the fact that it's not easy for those living outside south-east England to visit; and then because it's said to be a lot of hype and not worth the entrance fee. Or is it?
We were invited to attend the Fiesta Filipina, a celebration of the Philippine National Day, which was held at the Dome recently. As guests of the Philippine Ambassador we were ensured a wonderful day. Great company, fine food in the Acclaim restaurant and superb concerts and shows by the Philippine people. And we weren't disappointed, we had a great day with our hosts! But what of the Dome itself?
The Dome is divided into zones, eg the Body Zone, the Money Zone and the Work Zone. We tried the Body Zone first. Basically this involved joining a long queue and shuffling slowly through the inside of a huge plastic body. If you enjoy being in man-made caves with flashing lights and "attractions" such as an overhead, oversized, pumping heart – then this is for you. I was yawning before I'd even got through half of it. Five minutes later, we were outside the body being offered a few little interactive buttons and screens to play with. They weren't very exciting although, to be fair, they might have been more interesting had they all been working properly.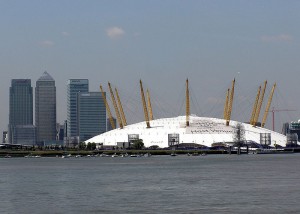 I was enticed by the Money Zone, especially as there was the promise of spending a million virtual pounds! We queued patiently for our turn and when it came were shown to a supermarket trolley full of hi-tech hardware. There was a computer monitor and keyboard there for us to use to spend, spend, spend! Unfortunately, it wasn't very exciting. You only had a minute to hit moving icons on the screen and no opportunity whatsoever to make any decisions. And it was all over in sixty seconds. You could probably have more fun on a trolley dash in Halfords, but on second thoughts, maybe the Money Zone was preferable to that.
By this time, I was feeling like I was stuck inside an awful website, where there's nothing on offer but you're trapped in their frames and can't escape. Since I've been surfing so much, this is now a recurring dream for me; and the Dome made the nightmare come true. Dave tried to revive my flagging interest by suggesting the pub. We enjoyed sitting outside watching a show put on by various Philippine groups.
We mooched around half-heartedly through a couple of other Zones, I can't even remember which ones now. (And it wasn't because I'd just been to the pub!) And made our way home. Yes, we had a great day out, thanks to the wonderful Philippine people there, but no, we weren't impressed with the Dome.
On the positive side, despite the large number of people, the toilet facilities were very clean and plentiful – perhaps the only places without queues? And all the Dome staff are extremely courteous and helpful.
A quick straw poll of friends and colleagues revealed that no one had thought the Dome was worth the entrance fee of £20. One young man, however, did enjoy it and thought he might like to go back – when they drop the price.