A night at the opera – water sleeves and pheasants' tails
It must take real dedication to be a Cantonese opera performer at times.
Can you imagine spending two-and-a-half hours making up your face to a strictly-laid-down pattern and getting dressed in an elaborately embroidered and decorated costume – for a performance lasting a quarter of an hour?
That's exactly what two members of the Singapore-based Chinese Theatre Circle did for their audience during a recent show at The Pavilions pool villa spa resort in Phuket recently, as a showcase for The Pavilions' "Passion for Music" programme. We know, because we were lucky enough to be in the audience that evening.
It was the first time either Kay or I had seen a Cantonese opera performance, and we weren't sure what to expect, although the notes we were given beforehand told us that the duet we were to hear, The Parting Song of Love, was a gem of Cantonese opera.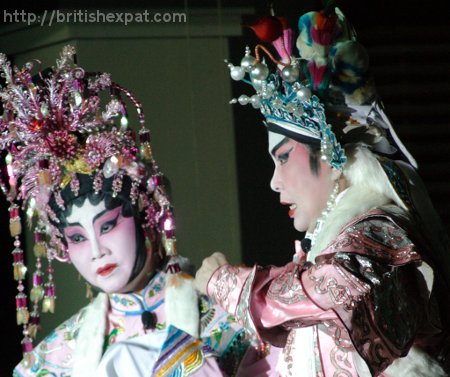 The story's a very sad one. A Chinese princess is rescued from drowning by a warrior from a barbarian state. The couple fall in love, and marry. But the Emperor of China soon hears about the marriage and threatens that he will send his armies to invade the barbarian state if the princess does not immediately return to China – without her husband.
Neither of us speak Cantonese, so we weren't able to appreciate the full beauty of the performance. (Indeed, we wouldn't have known what was going on without the programme notes.)
Not only that, but there's a good deal of symbolism and significance behind costumes, make-up, gestures and movements. Take for instance the pheasant tail-feathers in the barbarian warrior's head-dress in our photos: they show he's a military leader. Meanwhile long cloth sleeves – known as water sleeves – are used for expressive effect to show the elegance and tenderness of the female characters, as you can see from the princess's costume. Make-up also helps identify characters; at a very basic level, men's eyebrows are usually drawn thicker than women's, though there are of course many more layers of sophistication than that.
But even without knowing about the traditional symbolism – or even the title of the duet – it was clear enough that the couple were lovers expressing their anguish at being forced to part. And the singing, the music, and the acting all made for a beautiful and touching spectacle.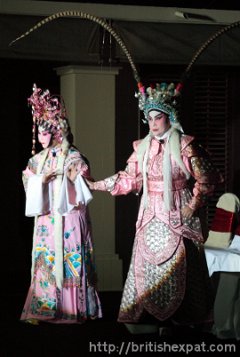 The Chinese Theatre Circle was founded in 1981 by husband-and-wife couple Leslie and Joanna Wong, who for the previous 14 years had been in charge of a Cantonese clan association's cultural activities and had taken the clan's opera shows to unprecedented heights of success for a local troupe. That same year Mrs Wong became the first Chinese opera artiste to be awarded Singapore's prestigious Cultural Medallion.
Since then the Chinese Theatre Circle has performed to audiences all over the world, including particularly notable performances of The Poet Emperor Li Yu and A Costly Impulse in Beijing – the latter of which was broadcast across China to a viewership of 700 million.
If you did your sums a couple of paragraphs ago you'll have realised that the Chinese Theatre Circle is celebrating its 30th anniversary this year. Sadly, though, we've read in the Straits Times that the company is facing funding difficulties – young Singaporeans, presented with a plethora of entertainment choices, aren't so devoted to Cantonese opera as the older generations, and government grants to boost the traditional arts have largely passed the Circle by. There's also the question of who will take on the running of the Circle when the Wongs, who are both now in their seventies, finally retire.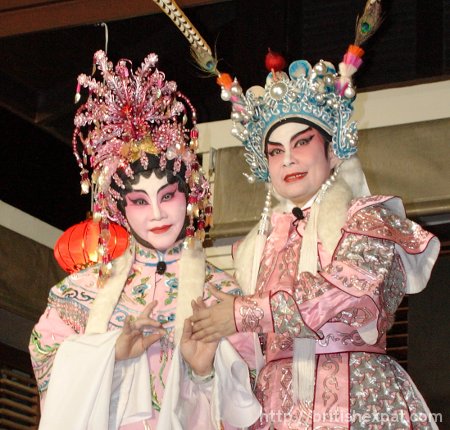 Let's hope their problems find a happy resolution soon – it would be a real loss to Singaporean and Cantonese culture if this wonderful opera company had to close.
You can read more about The Pavilions Phuket here:
The Pavilions Phuket