Bad Christmas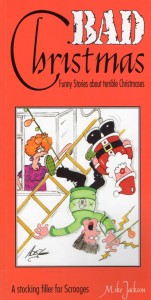 Don't you just love Christmas? The feelings of guilt when that distant relative thousands of miles away sends you a card and it's too late to send them one? The hectic dash around the shops on Christmas Eve to get the last couple of presents and stock up on yet more booze? Being woken at five in the morning by hyperactive kids when you're still fighting off a hangover from the marathon present-wrapping session? The arguments in the kitchen as mother-in-law insists that you don't baste a turkey that way?
No? This could be the book for you, then.
Edited by Mike Jackson (not the singer or the beer connoisseur) and with cartoons by Adey from Private Eye, this book collects hundreds of anecdotes and news stories of the disastrous Christmases people have gone through all over the world, as well as some of the more bizarre celebrations. The 22 different sections includes one about companies doing their best to cash in on the festivities in contrived ways – like the sun-tanning parlour warning that "Snow should be the only thing that's white this Christmas" – and another about pantomimes and nativities. In just 112 pages (small pages, but small print too) the book covers everything that's bad about Christmas from pretty well every angle.
If Christmas lost its appeal for you once you hit puberty, this could be just the thing to find at the bottom of your stocking. And even if you still think Christmas is great, then you could always buy it and put it in your toilet for your Christmas dinner guests to read so they know they're getting off lightly…
Bad Christmas – Funny stories about terrible Christmases
Edited by Mike Jackson
Paperback, 112 pages
2005, Severnpix
£8.99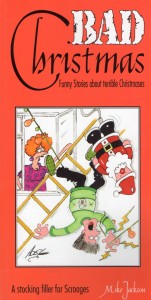 Dave was bitten by the expat bug at the age of 13 when he went to live in Germany. Since leaving school at the age of 30 (with a doctorate in something so obscure even he can't remember what it's about) he's also lived in Bangladesh, India and Thailand, and travelled to most European countries (including several that don't exist any more, though he denies responsibility), as well as Barbados, South Korea, St Vincent, UAE, Laos, and many more.