Mad about motorways!
M5 Sights Guide
M6 Sights Guide
M4 Sights Guide
by Mike Jackson
Ever been driving along a motorway, seen a building, and wondered what it was?
Wonder no more. Mike Jackson and his small team have trawled the lengths of three of Britain's longest motorways to find out for you!
Sadly, the M5 Sights Guide is out of print at the moment – which is a pity because that's probably the one of the three motorways I know the best. But there's enough consistency between the other two books to establish that all three share the same approach. (As I know the bottom end of the M6 fairly well, that's the one I read most closely.)
The Guides attempt "to identify and describe every object of some significance that a passenger in a vehicle would easily be able to notice whilst travelling along the motorway". The idea's not all that new – as Jackson points out, John Ogilby did much the same in his map of the coach route from London to Aberystwyth in 1675! But these books revive and revamp the idea in a particularly effective way.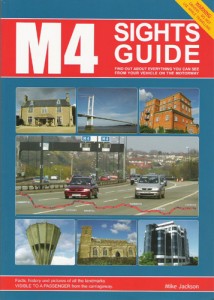 What makes these Guides really stand out is their diagrammatic approach. Each open two-page view contains a heavily simplified schematic diagram of a section of the motorway, running in a straight line either from north to south or from west to east. The scale varies, being reduced to miss out boring bits or expanded to allow enough space for the more interesting areas. Every bridge is mapped, and so are the emergency phones. And there's a key map in the corner to show the section of the motorway as it would appear on a conventional map.
Most of the text is in plain grey. But there's also clever colour-coded text, taking its cue from motorway signage. So blue text refers to destinations on the motorway signs, or denotes facts about the motorways themselves. Brown text is used for tourist destinations. There's also italic text for where the motorway crosses a waterway (blue) or railway (brown).
There are loads of photographs. For clearer mapping, photos outside boxes appear on the diagrams more or less where they ought to in relation to the motorway; photos in boxes generally have a pointer to where they lie (the exception being service stations). Where a landmark's visible only from one of the carriageways, that's indicated too.
But the photographs are only part of the story. The captions are the real meat, and make for entertaining – often fascinating – reading. They're emphatically not your standard tourist guide, so you won't find stock descriptions of landmarks already done to death elsewhere. As the caption for Carlisle says, "We don't attempt to replicate the stuff you can find in tourist bureaux. Instead we like the incongruous or obscure." This means that much of the comment is personal, either by the team themselves or by the people they interviewed while researching. It makes for a quirky but interesting read.
The Guides also have a surprisingly strong "green" thread to them. Jackson's preface to the M6 book bewails the impact of the modern British economy on the planet, painting a picture of goods coming in at Felixstowe, then being trucked up along the A14 to the M6 before being delivered to the new 24-hour Tesco at Whitehaven. Environmental concerns crop up from time to time throughout the books – though I hasten to add that these entries don't preach at you, they just give you food for thought.
At £9.99 each, the books are pretty good value. You're getting a lot of content, attractively presented. The pages in my copy of the M6 Guide did start coming out rather too quickly for my liking – and for books like these, you'll be doing a lot of page-turning. (Especially since there's a strong chance the books will be read by child passengers – as the front cover warns, they're not for use by drivers while travelling.) But give them a better binding (even stronger glue might help) and I'd say they're about as good as you'll get.
M6 Sights Guide
Mike Jackson
Paperback, 96 pages
2004, Severnpix Publishing
ISBN 0-9545402-1-2
RRP: £9.99
M4 Sights Guide
Mike Jackson
Paperback, 96 pages
2005, Severnpix Publishing
ISBN 0-9545402-2-0
RRP: £9.99
M5 Sights Guide
Mike Jackson
Paperback, 96 pages
2004, Severnpix Publishing
ISBN 0-9545402-0-4
RRP: £9.99
Dave was bitten by the expat bug at the age of 13 when he went to live in Germany. Since leaving school at the age of 30 (with a doctorate in something so obscure even he can't remember what it's about) he's also lived in Bangladesh, India and Thailand, and travelled to most European countries (including several that don't exist any more, though he denies responsibility), as well as Barbados, South Korea, St Vincent, UAE, Laos, and many more.