Are you happy to live in a foreign land, speaking the local language, watching local TV? Or do you REALLY miss EastEnders, Coronation Street and all the other truly educational programmes that are available in the UK?
Help is at hand. There's a multitude of English-language satellite programmes which are broadcast from a cluster of satellites hovering above the equator some 23,000 miles up in space. The cluster is located around 28° East of true South but the elevation above the horizon depends on how far south you live.
Now, there's good news and bad news. The bad news is that these English-language programmes are beamed towards the UK. The good news is that you can receive at least some of them with quite a small dish, even as far away as the Canaries, Cyprus or Moscow.
The weakest signals, unfortunately, are those used by the BBC and ITV. To get an idea of the dish size you'll need, take a look at the map on this page:
http://www.satcure.co.uk/2d/fprint.htm
This gives the approximate coverage of the satellite called "Astra 2D" which is currently used by both the BBC and ITV.
The other satellites have a slightly greater coverage:
For the most part, these coverage "footprints" are rather pessimistic – sometimes wildly so. So don't believe them – seek advice from an expat neighbour who already has a system. There's bound to be someone in your area willing to demonstrate his/her system and advise you.
The BBC programmes are currently NOT scrambled so you can watch them on almost any "free-to-air" digital satellite receiver, with prices as low as £80 for the most basic model. However, although the BBC programmes and many shopping channels, holiday channels, religious programmes etc. are not scrambled, the majority of English-language programmes are scrambled.
To watch the scrambled channels, including the many offerings from SKY, you'll need a Sky Digibox and a viewing card. There is no other way.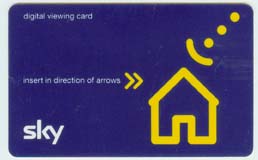 There are two types of viewing card but both look identical and have "SKY" printed on them. They are dark blue with a yellow house outline. (Earlier pale blue cards are now useless).
To obtain a card you need a UK postcode address – and please note that buying a card automatically triggers a TV licence check on that address!
The first type of card is called a FTV (Free To View) card, although some mistakenly refer to it as "free-to-air". (You don't need a card for programmes like the BBC that are "free-to-air"). You can order a FTV card for £23.50 by phoning 08700 541800 in the UK and giving your UK address details.
The other type of card is the standard Sky Subscription card. If you already have a Sky Digibox you can phone BskyB and ask for "a second hand contract" which will be sent to your UK address. This can take up to FOUR WEEKS to arrive!
Note that using the card outside the UK is considered to be a breach of contract so, if BskyB find out, they'll transmit a signal to disable your card.
Do I need a telephone connection?
No, you don't need this outside the UK. The only time the phone connection is required is when you've acquired a Sky system with discount by signing the B.I.B. contract in addition to the Sky contract OR if you've subscribed to Sky for a "mirror" card. It's assumed that most expats will buy a new or used Sky Digibox and will use it with an FTV card (no contract) or with a "second hand contract", in which case there's no worries about a phone connection.
Which Sky Digibox shall I buy?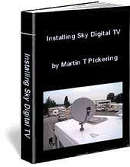 For fringe area reception, the all-time favourite is the Panasonic TU-DSB30 model. But this is obsolete so it's available second-hand only. It's reasonably reliable provided that you keep it very cool. If in doubt, fit a fan AND keep it cool! This applies equally to ALL electronic equipment. It doesn't like to be pizzafied.
For a new Sky Digibox, the best choice for weak signal areas is the Pace BSKYB2600 which will shortly be renamed the Pace DS430N. If you want a really tiny, portable version, then you can't beat the Pace "Javelin" minibox. This is effectively a shrunken BSKYB2600 with only one Scart socket and one RF output socket. It has an external 12 volt power supply (which itself isn't very reliable but at least it's easy to replace). The minibox can also be powered from a 12 volt battery, which is great for power cuts (if you have a 12V TV set) and for camping, caravanning or even boats.
However, at the time of writing, the "Javelin" minibox is already in short supply so buy now!
What size dish do I need?
That depends on your location and what you want to watch. Check with other expats near to you. If you duplicate what they use then you should get the same reception. Also note that the "signal collector" or "LNB" on the dish arm is critical in weak signal areas. Tests indicate that the best LNB for dishes up to 1.5m diameter is the Manhattan MTI 0.6dB but the best LNB for larger dishes is the "Invacom 0.3dB twin-output" or "quad-output" version. (For some reason, the single-output version doesn't work as well.)
Alignment of the dish on that cluster of satellites 23,000 miles away is critical to success. Just one degree error will lose the signals. You can use a purpose-built satellite signal meter (satmeter) to locate the signal then make the final adjustment of dish and LNB by looking at the Digibox on-screen signal display. This usually means taking the Sky Digibox and a portable TV outside so wait for a dry day.
Where can I buy everything I need?
Because of its size, it's usually more convenient and cheaper to buy the dish locally. But you can buy everything else by mail-order. Bear in mind that there may be import duty and tax to pay. But the Pace "Javelin" can be carried in a briefcase.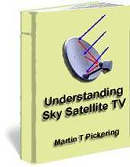 SatCure has everything you'll need in its on-line catalogue. There's also lots of free information and, if that's not enough, you can buy eBooks from SatCure to help your understanding. Be sure to download a FREE copy of "Understanding Sky Digital TV" from the SatCure web site.