Ġurdan lighthouse
Pic of the Week: 11 October 2013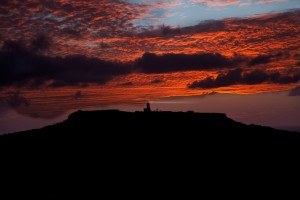 by NaxxarNick © 2013
Ġurdan lighthouse above the village of Ġħasri on the Maltese island of Gozo.
NaxxarNick adds:
"This was taken from Ġħasri's neighbouring village, Żebbuġ, looking westward shortly after sunset. The lighthouse was built in 1853 and can be seen up to 30 miles away.
"We have lived in Malta for five years now, but we should have moved here years ago, we love the place and the people!"
NaxxarNick spent most of his working life in the Armed Forces (24 years). After leaving the Army he worked as a General Foreman for a large construction company and as a professional photographer. He now lives in Malta.