Good enough to eat!
Pic of the Week – 12 December 2005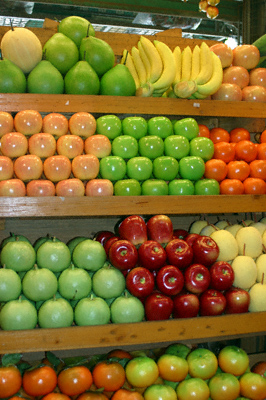 by Kay McMahon © 2004
All images are digitally watermarked – please don't infringe copyright!
Kay adds:
"Chatuchak Market is a great place to go if you're in Bangkok at the weekend. Be warned – it's so big and so crowded that there's no way you'll get round it all in one day. But at least there are places you can sit down for a well-earned cold beer (if you look for them hard enough).
"Because it's so big, you can find virtually anything there. They've even got a whole area devoted to pets, although that gets very smelly in Bangkok's heat. These mouthwatering fruit, on the other hand, look very tempting – so much so that when I showed this photo to Dave after several months, he'd forgotten they were artificial!"
Kay has been an expat for nearly 30 years. She set up the British Expat website back in early 2000, whilst living in London and missing the expat life. These days she spends much of her time lugging computers and cameras around the world. (Dave gets to deal with all the really heavy stuff.)