The most photographed dog in Georgia
Pic of the Week – 3 July 2006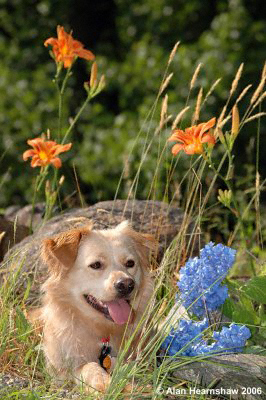 by Alan Hearnshaw © 2006
All images are digitally watermarked – please don't infringe copyright!
Alan adds:
"The most photographed dog in Georgia? Well, that's our claim, anyway.
"I was out last weekend taking shots of a lake near home and Sally was being very patient and waiting for me.
"She looked so cute that I just had to rattle off a few of her. Of course, these photos turned out far better than the ones I had gone there to take!
"I have to admit to some poetic licence here. The wild flowers were transported from half a mile away and arranged. Sometimes you have to give mother nature a little hand!"
Visit Alan's website: Fine Mountain Living