Kestrel
Pic of the Week – 22 January 2007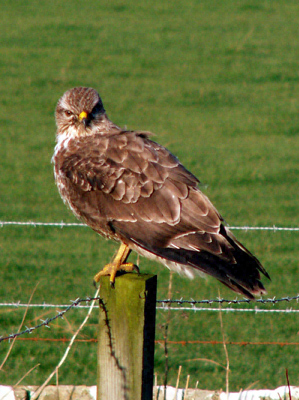 by Mike Clark © 2006
All images are digitally watermarked – please don't infringe copyright!
A kestrel perches on a fence-post. Given that it was Mike who submitted the photo, we'd guess it was taken somewhere in Northern Scotland…
Mike discovered the joys of horticulture when, as a small child, he overheard a neighbour say she'd dropped a sixpence in the tattie patch. He has been digging ever since, with the tenacity of a true Scot, hoping one day to find a fiver. Despite now running his own landscape gardening business, Mike claims to be permanently broke, due in part to his quest for fame resulting in writing gardening columns for free. He likes trees, Jack Russells, and 12 year old Glen Ord, but not necessarily in that order. Gifts of any of these can be sent c/o britishexpat.com, but he would like to point out that the third item is by far the easiest and cheapest to post. One of the highlights of his life was winning a toilet brush in a raffle. He persevered with it for ages, but he's back on the paper now... Mike approaches gardening and writing with exactly the same formula. Throw in plenty of manure, and something good will eventually spring up.