Pic of the Week – 8 December 2008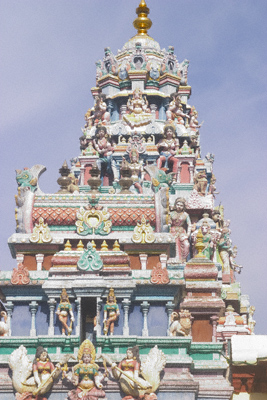 by Kay McMahon © 2008
All photos are digitally watermarked; please don't infringe copyright!
Kay adds:
"Little India is a thriving predominantly Tamil community in George Town, capital of Penang State and Malaysia's second largest city, nicknamed the 'Pearl of the Orient'.
"This temple is dedicated to the South Indian mother goddess Sri Mariamman, a manifestation of the goddess Parvati, who is more or less the most important of Hindu goddesses. Mari is particularly popular with expatriate Tamils because she's looked upon as their protector while they are away from their homeland. Which makes it quite appropriate for us to feature her temple as our Pic of the Week, really!"
You can read more about Penang in our Malaysia section.