Job done!
Pic of the Week: 30 June 2012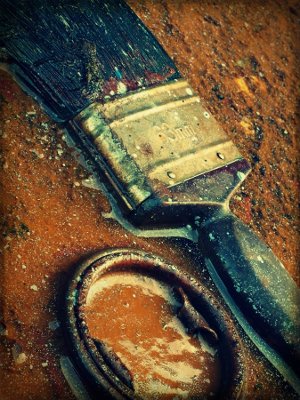 by Anne Macdonald © 2012
Still-life of a used paintbrush resting on top of a wet and rusty oil drum.
Anne adds:
"I once saw a heading for a type of photography called 'Unintentional or Found Art' meaning that the subject was just found there and looked artistic when photographed. Maybe my 'Job Done!' fits into that category as all I had to do was point and click. I would say it looks a little artistic to my eye."
To ours too. What a fascinating combination of colours and textures!
Anne lives in the Shetland Islands. She fairly recently discovered an interest in photography and set up a blog in February 2011 to showcase her work. Head on over to Anne's blog A Zoom with a View and enjoy her wonderful pictures - of Shetland and many other subjects.