Pic of the Week: 31 October 2015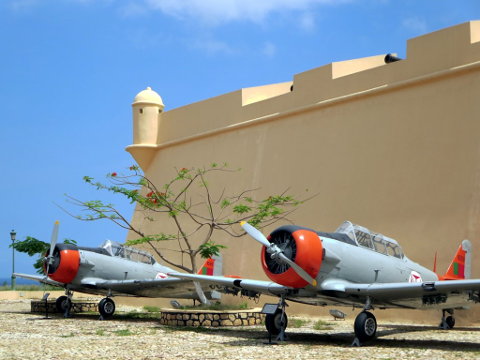 by David Stanley © 2015
Two North American Aviation T-6 aircraft of the Portuguese Air Force at Angola's National Museum of Military History (Museu Nacional de História Militar) in Luanda.
The T-6 first flew in 1935 and was used as a training aircraft by Allied forces in the Second World War and for three decades afterwards. In US service it was designated the T-6, the AT-6 or the SNJ and known more colloquially as the Texan. British and Commonwealth forces knew it as the Harvard. It saw service in the Royal Air Force—and the Fleet Air Arm, which is where the closer of the two aircraft seen here originally served before being sold to the Portuguese in 1956. The Portuguese used up to 100 of the T-6G light fighter variant in the Portuguese Colonial War in Angola from 1961 to 1974.
The Museum itself is housed in the Fortaleza de São Miguel, built in 1576. It was the administrative centre of Angola under Portuguese rule and was the headquarters of the Commander-in-Chief of the Portuguese Armed Forces there until the end of colonial rule in 1975.
David Stanley is a prolific travel writer and photographer. You can find more of his photos of Luanda, and of many more destinations, on Flickr.