A trip on the Eastern & Oriental Express: Part Three
Surprisingly, the passage from Buddhist Thailand to Muslim Malaysia is quite clear. Even without the cabin steward's little card advising travellers to adjust their watches (there is an hour's difference), looking outside said it all. From Thailand's terraced farms we were plunged into Malaysian rubber plantations. The change was startling.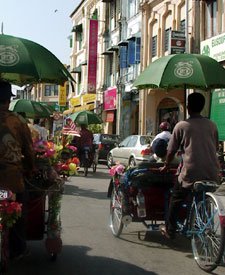 In Malaysia the train stops in Butterworth for a visit to the Spice Island of Penang. A chequered history of British, Malaysian and Chinese influence throughout time makes George Town colourful and diverse. From the people to the architecture, it's a real melting pot of cultures. The visit by trishaw takes you from a Chinese clan house, impressive with its ornate, colourful and complex carvings, past Little India and the legendary Eastern & Oriental Hotel. A good opportunity to see a lot without walking in the stifling heat!
Back on the train, after a wobbly shower it's time to meet fellow travellers in the Observation car. The open-air car is ideal for soaking up the tropical environment while sipping an aperitif and socialising. Hair flickering around your face, you are free to embrace the heat, sights, sounds and fragrance of the sultry Malay Peninsula.
The restaurant, run by British Chef Kevin Cape, is a highlight of the journey. Dinner is a formal affair where men are expected to wear jackets and ties and the ladies can dress in their finest garb.
The food is worthy of a Michelin star in my opinion. Your taste buds are in for a feast of flavours. French silverware, heavy crystal and impeccable service enhance the experience making you glow some more.
Sampling Grilled Snow Fish steak, Clear Wonton Soup with Tamlueng leaf or Warm Goat's Cheese Soufflé with Fricassée of Lobster and Thai Asparagus is quite something. And that's only the starters.
Watching the landscape at night, while enjoying Pan Fried Sea Bass with Lemongrass Risotto, Traditional Thai Massaman Chicken Curry or even Aromatic Confit of Duck with Szechwan style vegetables is a unique, somewhat surreal experience.
And if that weren't enough, the delicately prepared deserts range from Asian Mixed Fruit Crumble served with Roselle Ice Cream, Delice of Chocolate with Cassis Sauce to Warm Mango Tart and sticky rice. After Petits Fours and coffee, it's time to head to the Bar where a piano player provides the entertainment while you enjoy a nightcap.
After crossing the Straits of Johor, the train pulls into Singapore and disappointment sets in. Back to the real world. Your "train feet" have finally found the right motion but it's back to solid earth.
Everything they say is true. The Orient Express legend deserves its glamorous reputation. Definitely the thing of novels, stories told at dinner parties and the stuff of great memories.
For additional information, including on suitably elegant places to stay before and after travelling on the E&OE, click on the link below:
Eastern & Oriental Express: More useful information