Phnom Penh – restaurant reviews
This was our first trip to Phnom Penh, although we'd been to Siem Reap several times before. We'd had lots of good meals in Siem Reap and expected Phnom Penh to be much the same except, perhaps, just more of it.
Well, PP certainly was bigger and busier, but not having Angkor Wat just down the road meant that although there was a larger expat community, there were comparatively fewer tourist destinations. Still, we found plenty of good things to eat and only a couple of disappointments.
Jungle Bar, Sisowath Quay (just south of Street 148)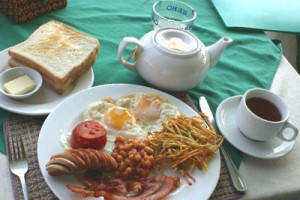 Having dumped our bags at the nearby Bougainvillier Hotel, where we were booked in for four nights, we were ready for breakfast. After staying up all night (we had to leave home at 3am in order to be at the airport for 5am), we didn't feel up to going very far. Since we didn't like the look of the menu or the prices at the Bougainvillier, we strolled a little way along the riverfront. The first promising place we came to was the Jungle Bar. Kay's full English breakfast was excellent – well cooked, good portions, good quality food, and friendly service (but more about the service later). It was inexpensive too, at $3.75. Even the toast was nice – good thick bread and properly toasted on both sides. Meanwhile, Dave tucked into a breakfast burrito – a tortilla filled with egg, bacon, tomato and chillies. Very tasty it was, too. We were impressed. The only downside was that there were far too many flies buzzing about and we were constantly harassed by street vendors. As far as food goes, though, for breakfast only (we didn't try any other meals there) you couldn't really ask for more.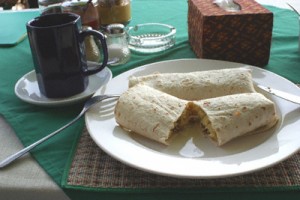 However, a few days later we found ourselves back there again by default – not having found anything better – and one of the staff put her foot in it by asking whether Dave was Kay's son. It kind of put us off ever going back there. But if you don't mind rude comments from the staff or you're travelling with someone exactly the same age as yourself, then chances are you'll enjoy your breakfast at the Jungle.
Overall rating: 4 out of 5 for breakfast only
FCC, Sisowath Quay/Street 178
We went to the FCC a couple of times during our stay and had mixed experiences. You can't beat the place for ambience with its upstairs bars overlooking the Tonlé Sap river at its confluence with the Mekhong. It also has an excellent and varied menu. What they actually produce varies quite a bit, though.
On the first visit we just wanted a snack and so ordered an antipasti platter between us, which seemed like a worthwhile feed for $6.50: hummus, babaghanoush, marinated aubergine, roasted red peppers, rocket, olives, Parma ham, feta cheese and pitta bread.
Unfortunately the waitress brought us two platters. Dave pointed out that we'd only asked for one. The spare was duly taken away, but another staff member came to quibble about the order afterwards and insisted that Dave had asked for two. (We were, however, only billed for one.) The food itself was excellent, though – apart from the hummus, which was on the bland side.
On the second visit, again, it was just for a snack and we tried the tapas option of three different appetisers – salt and pepper squid with lime aioli, which was nice; crab and corn cakes with chilli jam the crab cakes were lovely but the chilli jam didn't appear to have any chilli in it (which we rectified by adding some ourselves from the dipping sauce); and vegetable spring rolls with dipping sauce, perhaps we should've scoffed them up faster but by the time we got around to them, after the crab cakes, it was like trying to eat linoleum.
On our third visit, we were ravenously hungry and ordered some comfort food. Dave went for sausage and mash, Kay had the fish and chips. The food arrived in rather over-fussy style, with underplates upon which our dinner plates were then set. We think the psychology was that the dinner should appear bigger than it really was; for us it simply looked as if the restaurant was trying to disguise the smallness of the portions. Dave's sausage and mash was really not bad. Kay's fish and chips were rather soggy; perhaps they'd been held back for the soss and mash.
To give a fairer rating we should probably have sampled a breakfast or dinner but based on the snacks we had, it merits about 3½ for food, and higher because it's a very pleasant place to be.
Overall rating: 3½ out of 5 for snacks only
River Street Bar, Sisowath Quay/Street 178
Once again we found ourselves strolling along the riverfront, this time looking for somewhere to have dinner. We came upon the River Street Bar (lots of bars around here are called River Front or River something, which could lead to a bit of confusion). Anyway, it had a nice corner location and we went to sit down. When we saw how grubby the chairs were it almost put us off but we thought, "What the heck," and sat down anyway. Then we had a look at the menu, and that too was filthy – all dirty blotches and grease. If that was how things on public view were, we wondered what kind of dirt was behind the scenes in the kitchen. We left without ordering anything.
Overall rating: 0 out of 5 because the place was too dirty to eat there
La Croisette, Sisowath Quay/Street 144
This looked like a nice place – another corner location on the riverfront – so we had brunch here. We had a couple of fruit shakes to start, which were very good. Then Dave had a baguette with merguez sausage, chips and salad, which he pronounced to be very tasty with a nice, spicy sausage. Kay had a bacon sarnie. This could've been very good but was totally spoiled by the cheap and nasty bread used for the toast, and that wasn't even toasted properly. It would probably have been better to order the baguette.
However, they did have a good extensive menu with something for everyone. Definitely worth a try as long as you avoid the toast.
Overall rating: 3½ out of 5