Phnom Penh – where to stay
Bougainvillier, Sisowath Quay
This was our first trip to Phnom Penh and we had decided to splash out and treat ourselves to a bit of luxury. Well, that was the theory, anyway. Billed as "Phnom Penh's most comfortable hotel", the Bougainvillier seemed like a good bet for a bit of pampering and luxury. At $83 per night for a suite we were expecting something seriously good.
We arrived just before 9am so naturally we didn't expect to check in that early. We did, however, expect them to try to flog us breakfast while we waited. Not so. Once we'd dumped the bags, the woman on reception suggested we should "go and look at something" while we waited. Not that we wanted to buy breakfast there anyway, but it was quite odd that they didn't even offer it. We had a smashing breakfast at the nearby Jungle Bar instead.
We returned a few hours later and were shown to the room, where we immediately crashed out for a few hours. At first glance the room seemed to be well appointed and we weren't disappointed by the spaciousness of it. But our first impressions were wrong.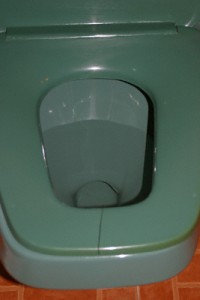 We soon discovered that the toilet seat was broken – not just a small crack but actually split in two. That's not what we think of as comfortable. When we went back downstairs (we were three flights up and there's no lift – we'd chosen a higher floor expecting to get better views) we immediately reported the broken toilet seat and asked for it to be fixed. It wouldn't even have been so bad if they'd taped it up temporarily.
The woman on the reception desk was extremely rude and all but accused us of breaking it. Not a good start to our stay at the "most comfortable hotel" in Phnom Penh.
When we arrived back later that evening, we discovered that the toilet seat still hadn't been fixed. Then we also discovered that one of the bedside lamps hadn't been wired up properly and didn't work. The following morning we reported the broken toilet seat again and the light. We were met with similar surliness from the woman on reception.
By that evening the light had been fixed but not the toilet. We improvised by wrapping a hand towel around the sharp broken bit, in the hope that this might draw the cleaner's attention to the problem.
The following morning we reported the broken toilet seat again – this time to a young man at the desk who had a better manner and who agreed to see to the problem.
To our surprise we found a new toilet seat in place when we returned that evening. Whether it was genuinely new or whether our broken one had been swapped with another room and some other poor bugger was going to have to deal with it next, we had no idea.
OK, a broken toilet seat might not seem like a big deal, but when you pay $83 per night you feel cheated if you can't even sit on the bog in comfort.
There were other problems with the Bougainvillier. There was building work going on next door (which we understand is also owned by the Bougainvillier's owner), and whilst the noise wasn't excessive while we were there, the river view looking north was obscured by the tarpaulin surrounding the scaffolding.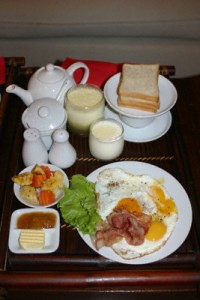 Additionally the food was very expensive and the breakfasts were limited to Continental, American, or French. We ordered breakfast one morning just to see what it would be like and predictably it looked rather miserable – blubbery bacon, fibrous fruitshake, toast that wasn't (the second time we've come across this – what is it about Cambodia and toast?), and a limp lettuce garnish. But judge for yourself; here's a photo.
So, all in all it was a big let down and we wouldn't go back. We certainly wouldn't recommend it either.
Overall rating: 2 out of 5. It was spacious and the wall hangings were nice.
California2, Sisowath Quay
We didn't actually stay here, having only discovered it and its friendly owner, Jim, on our last evening in Phnom Penh. However, this place is worth a mention as it's a definite must go place for any traveller. It's the nearest Phnom Penh has to a tourist information centre and Jim is pleased to provide all the info you might need.
There are also a few rooms at California2 which, although modest (so we were told), are modestly priced too – and invariably are fully booked so you probably need to book ahead. If we go back to Phnom Penh this would be our first choice of where to stay – great location, very friendly, and inexpensive. What more could you want?
Update: April 2008
We went and stayed at the California2 this time round and weren't disappointed; it was basic but very reasonable and friendly, with a great view of the river. Unfortunately the bar closed just a month later, in May 2008 (but it's now open again – see below).
But you can still get good information about travelling around Cambodia on Jim's website:
http://www.cafecaliforniaphnompenh.com/
Update: April 2010
The California2 re-opened in October 2009 in a new location just up the quayside – see their website for details.
Update: November 2011
We've been to stay at the new place – read our review!
Book Phnom Penh hotels NOW with Agoda!