"Bar St"
Visit One: April 2006
We popped in here for a quick bite to eat on our third morning – just a small snack of a Vietnamese green mango salad. But it was good enough for us to want to come back and try the place again that evening.
The Soup Dragon's on three levels. The ground floor's given over to Vietnamese pho soup and similar stuff. We made our way to the first floor (where we'd been that morning), which offers a wider range of meals and a good view out over the throbbing activity of Bar St. (Not that there's much of a throb until nightfall – and even then it's hardly Ibiza or Agia Napa. Thank goodness.) The second floor is really just a rooftop bar.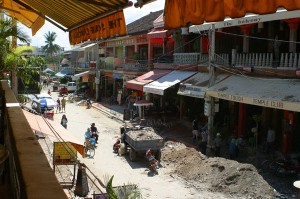 We ordered three dishes. The most complicated one was a kind of Vietnamese rice paper wrap thing, together with a steaming pot of broth (heated on a single-ring gas cooker brought to your table) and several plates of raw ingredients. The idea was that you cook the ingredients, then soften your rice paper wraps with coconut water, wrap the whole thing up and eat it. It was quite tasty, but a little bit fiddly. And matters weren't helped by the waiter constantly fiddling with the gas control. At one stage there were flames leaping out of the front of the cooker! Fortunately some East Asians (possibly Korean, possibly Taiwanese) at the next table were quick to respond – one of them leant over and turned off the gas. The others had already started diving for cover!
It would have been a pity to visit Cambodia without trying the national dish, amoc, so we ordered some of that. Amoc is a delicious mild fish curry in coconut milk, not altogether unlike some of the Sri Lankan or South Indian fish curries. It's often served in a coconut, but for whatever reason ours arrived in a banana leaf bowl.
Our third dish was really little more than a makeweight – a pork dish which turned out to be very similar to Thai pork red curry. Still, it was OK.
"Sorry about your surprise," the waiter apologised as we left. Oh well, no harm done. We lived to eat there another day. . .
Visit Two: July 2006
We took our American pal Don here for dinner on our first evening, warning him against ordering anything liable to cause an explosion. We shared a fish amoc, a green mango salad and, erm, something else that must have been nice enough at the time…
Visit Three: October 2006
Fancying a bowl of Vietnamese pho soup for breakfast one morning, Kay and I headed down the road to the Soup Dragon – only to discover that we couldn't find it on the menu. No matter, we thought, and decided to order a fruit drink each while we studied the menu. Kay's blend included papaya, among other things; Dave's watermelon breakfast drink included lime juice and hints of mint and ginger. Both were pretty good.
Sadly, the Moroccan mezze wasn't. We ordered all five for $5, and were rather shocked to find that they came in tiny little bowls scarcely bigger than your average Japanese green tea cup. There's nothing much to say about the zaalok (aubergine and tomato), chouchouka (green pepper and tomato) or tzatziki; they were "OK, I suppose". But the hummus was liquid; you needed a spoon to serve it, and it refused to stay on the pitta bread. The moutabel, on the other hand, was too dry and stodgy. Considering that you can get bigger, better quality portions at Molly Malone's just down the street, we felt rather cheated.
What put us off most of all, though, was when Kay ordered a pot of tea to follow up on her juice. It wasn't that the waitress was slow to arrive (the staff were either stuck to your back or nowhere to be found that morning). It wasn't even that the tea still hadn't appeared ten minutes after we'd ordered it. No, it was the big bogey hanging down from her left nostril. As Kay said, at least that meant it wasn't in the food, but…
Overall rating: anything between 2 and 3 out of 5 (in the price range)
OK, so perhaps our experience in October wasn't typical, but it does show a lack of consistency. You couldn't call the Soup Dragon a banker, though the chances are you'll have an OK meal. It's just that with so many other options to eat in the Bar Street area, you'd probably be better off trying somewhere else. And whatever you do, treat the "cook-at-your-table" option with due caution…