Tuk-tuk in the torrent
Pic of the Week: 18 June 2011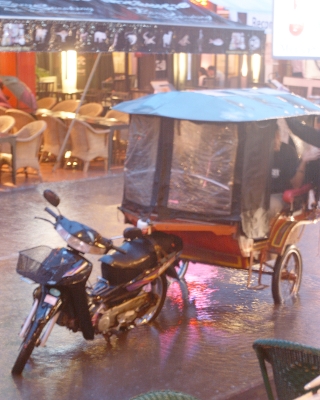 by Dave McMahon © 2011
Dave adds:
"We were staying in Siem Reap recently and decided to go out for dinner. As we were leaving the hotel one of the staff asked if we wanted to borrow an umbrella, which we politely declined. By the time we'd got half-a-mile down the road the heavens had opened!
"We stopped our tuk-tuk in Pub Street and dived into the closest bar. The rain didn't let up for nearly an hour, by which time – as you can see from the wheels of the tuk-tuk in the photo – the street was several inches deep in water.
"I took this using Kay's old Canon D60, which she's handed on to me now that she's got a spanking new 60D. I used a long exposure (one second) but didn't have a tripod, so the picture's not quite as sharp as you might expect."
Dave was bitten by the expat bug at the age of 13 when he went to live in Germany. Since leaving school at the age of 30 (with a doctorate in something so obscure even he can't remember what it's about) he's also lived in Bangladesh, India and Thailand, and travelled to most European countries (including several that don't exist any more, though he denies responsibility), as well as Barbados, South Korea, St Vincent, UAE, Laos, and many more.