Pic of the Week: 30 April 2014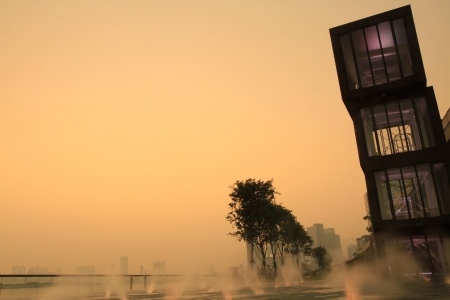 by Alan Law © 2014
Kwun Tong Promenade on the northern shore of Kowloon Bay, Hong Kong.
Kwun Tong, to the east of Kowloon, is Hong Kong's most densely populated district and one of its poorest, with several industries in decline as Hong Kong continues its shift from manufacturing to commerce and service industries.
The Promenade is part of an overall redevelopment of the Kai Tak area, following the closing of the old international airport in 1998. Construction of the Promenade began in March 2009, and Stage One was completed by the end of the year.
The apparently tottering edifice to the right of the picture is a landmark tower whose design is based on the heaps of paper that used to be delivered at the old pier for recycling. According to the local council's "Fun in Kwun Tong" website, the tower represents "turning decay into miracle".