Candi Prambanan, Yogyakarta
Pic of the Week: 27 November 2016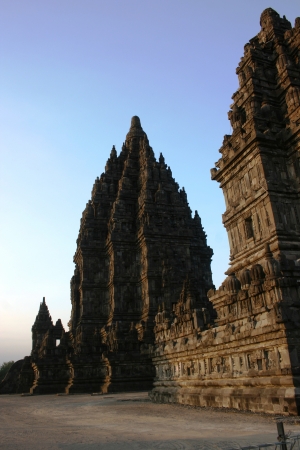 by Rahmat Nugroho © 2016
Candi Prambanan (Prambanan Temple), 17 km (11 miles) north-east of Yogyakarta in southern central Java in Indonesia.
Hinduism is so strongly associated with India that it's easy to forget that it spread extensively throughout South East Asia too. The Prambanan temple complex was built in the mid-to-late 9th century and was the royal temple of the Kingdom of Mataram, but was abandoned not long after the Mataram court was shifted to East Java in about 930. The buildings collapsed in an earthquake in the 16th century. They were rediscovered in 1811, during the short-lived British occupation of the Dutch East Indies during the Napoleonic Wars.
Although there have been some efforts to reconstruct the temples, they've only partly succeeded because of plundering of masonry for construction elsewhere (and of sculptures for use as garden ornaments). But the main Shiva temple (the one in the photograph) was completed in 1953 and inaugurated by President Sukarno.
While Indonesia is the world's most populous Muslim country – more than 5 out of 6 of its 255-million-strong population are Muslims – it still has a small (1.7%) Hindu minority, most of whom live on Bali.