Eastern & Oriental Hotel – Penang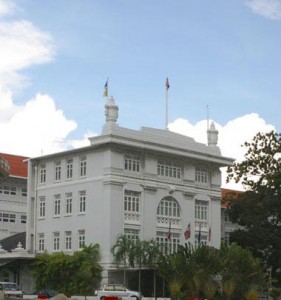 10 Lebuh Farquhar
10200 Penang
Having endured a fairly spartan stay in Penang some months previously, on a subsequent visit we decided we were going to pamper ourselves a little. With that in mind, there was only ever going to be one choice of hotel – the Eastern & Oriental, on George Town's northern shoreline.
The pampering duly started on our arrival, where we were escorted to the stately yet comfortable lounge area in reception to book in. As our passports were whisked away for the tedious paperwork to be completed for us, we were able to stretch out on silk-covered sofas and enjoy our complimentary cocktails – a great way to unwind after the half-hour drive from Penang Airport.
The suite itself (there are no rooms) didn't disappoint either. We were slumming it in one of the Deluxe Suites – the lowest level of luxury the E&O has to offer – with a spacious 58 square metres to stretch out in. Tasteful furnishings in high-quality wood, silk and cotton made us feel we were being thoroughly cosseted. So did the black-and-white marble bathroom, complete with roomy shower and deep bath; plenty of room for two!
The E&O is well placed for many of George Town's most obvious attractions – you can get to most of them by foot if you're prepared to walk for 15 minutes or so. But if you'd rather stay put and unwind, as we chose to do, the balcony of our suite offered a great opportunity to do that. What could be better than sitting down with a cold cocktail, a good book, and a view of the cruise liners sailing in stately fashion through the Penang Strait?
Perhaps the most pleasant experience of all was the afternoon tea in the 1885 Restaurant on the ground floor. It's possible to take tea on the terrace, but we chose to stay indoors. There's a wide choice of teas and coffees, with beautifully-presented sandwiches, canapés and cakes, all served by smiling, attentive but discreet staff and accompanied by soft piano music.
Later, if the mood takes you, you can amble down the quiet corridors to Farquhar's Bar – billed as a British pub, and with all the comfort you'd expect from the better-appointed scions of that particular breed. And if you're still feeling peckish after the afternoon tea, they serve excellent pub grub and snacks from 11am to 11pm. The chicken satay went down especially well with the beers.
So if you've had enough of the hustle and bustle of the 21st century and feel you deserve a few days at a more dignified pace, the E&O could be just what you're looking for. You won't even notice that your every need is being promptly but discreetly attended to – you'll be far too wrapped up in the air of quiet calm that pervades the hotel.
Overall rating: 3½ out of 5 It's not cheap, but then again, you are treating yourself. If we ever go to Penang again and felt particularly wealthy, we'd consider staying there again – although we've since found that the Bayview just across the road is good value if your budget doesn't stretch to the splendour of the E&O.