George Town, Penang: a walking tour
George Town, the capital of Penang and the second largest city in Malaysia, has one of the largest collections of 19th and 20th century buildings in SE Asia. The easiest way to see the old town area is on foot. Here's a suggested walking tour (all images are clickable):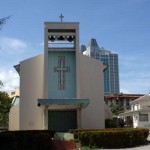 We started at St Francis Xavier's Church towards the north end of Jalan Penang (furthest away from the KOMTAR), on the western side of the street near the Soho bar. This church was built in 1867 on land donated by the Godfrey family. It is named after St Francis Xavier, who brought Christianity to the non-European peoples of Portuguese Malacca in the 16th century.
From here we returned to the main road and turned left (northwards). This took us to the Residence of Ku Din Ku Meh (KDKM) who was born in Anak Bukit, Kedah around 1848, and started his career aged 14 as Head of Kedah prisons. A literary man, fluent in Malay and Thai, he continued to be promoted until he became the "Raja of Setul" in 1902, a position which he continued to hold until he retired in 1916.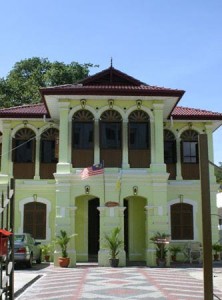 KDKM's residence has now become a mini-museum and homestay. It's well worth a look inside and the knowledgeable curator will show you around. If you want to stay right in the centre of the old town, then this place might suit you. A standard room costs RM70, while a deluxe will set you back RM90. Rooms have a toilet and shower en suite and a television. We would've planned to stay here on our next visit but there didn't appear to be fridges in the rooms, and we like to have a fridge. If a fridge in the room isn't important to you, you might well find it fun to stay a few nights in this interesting historic building.
Here are the details:
Manager: Tengku Yahaya Tengku Mahadi
Address:
20 Penang Road
10000 Penang
Phone: +60 (0)16 4404466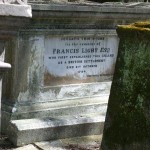 Next we headed north to the end of Jalan Penang and turned left (west) along Jalan Sultan Ahmad Shah, past the petrol station, which brought us to the Christian Cemetery, shaded by fragrant frangipani trees, is a pleasant place to visit and also worth a look as it contains the graves of many of Penang's early pioneers, including that of Francis Light (who founded Penang as a port in 1786).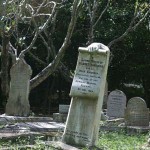 There was bright sunshine on the day we visited, and the contrast of light and shade provided by the trees gave the place an eerie look. Inside the cemetery it was peaceful, and the odd frangipani blossom floating down gave a feeling that fresh flowers were delivered 24/7. Perhaps an odd description, perhaps you need to be there!
From there we backtracked along Jalan Sultan Ahmad Shah, across Jalan Penang, and took the next turning on the right, Lebuh Leith. Just a short way into the street we could see our next destination:
The Cheong Fatt Tze Mansion can be glimpsed from many different parts of the old town. Its striking blue colour can't be missed. CFT was a powerful industrialist and is regarded as one of the most prominent figures of the East. The building has been restored recently and it's possible to go on tours around it.
The day we visited was a public holiday so we're not sure whether it was open or not. Whatever, the jobsworth at the gate refused to allow us to take a photo. Perhaps he wanted a bribe?
The place is probably worth a visit but I'm afraid the jobsworth's attitude put us off returning the following day for a tour.
Anyway, here are some of the photos we didn't take. (These were taken from places other than standing at the front gate. How the guy thought he could prevent photos of a building in full view of the public, I don't know.)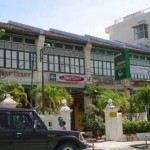 Directly across the road from here is a terrace of five shophouses. These were originally the servants' quarters of the CFT mansion. They have since been restored and now function as food and beverage outlets. We visited the pub there called 20 Leith Street and were not greatly impressed by that either.
From there we went further down Lebuh Leith, across Lebuh Muntri, to our next port of call, the Benggali Mosque.
Continue to Part Two of the walking tour