Outback Steakhouse – Kuala Lumpur
GL-12 BB Park Plaza Low Yat No. 7
Jalan Bukit Bintang
55100 Kuala Lumpur
We'd seen the Outback Steakhouse while wandering around just by our hotel in KL's Bukit Bintang district. It looked very appealing, so one evening we decided to give it a try.
I sat down and ordered two beers, while Dave nipped off to dump the shopping in our hotel room. The beers arrived just before he got back. He'd barely had time to sit down, catch his breath and take his first swig of beer when a waiter appeared and asked if we were ready to order. We asked for five minutes to have a chance to read the menu properly. Two minutes later, up popped another waiter. Were we ready to order? When the third asked, we suggested politely that we could let them know when we were ready. The pressure was a bit unnerving, all the more so since the restaurant wasn't even busy at the time.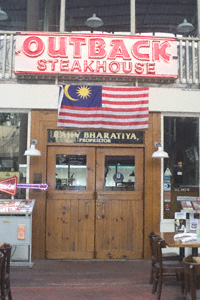 This wasn't a promising start, but things got worse.
We were confused by the menu. They offered various steaks, with prescribed accompaniments. At the top of the page we were told that all "Land Rovers" were accompanied by a choice of various accompaniments – baked potato, Aussie chips, grilled onions, mixed steamed veg, corn-on-the-cob… but nowhere in the menu were we told what a "Land Rover" was. Eventually we called over a waitress, who explained that a "Land Rover" was simply a steak and that we could choose whatever accompaniments we wanted, rather than the ones laid down in the menu descriptions.
At last we settled on crab cakes and a Caesar salad for starters, and a Victoria's Filet [sic] done medium rare with additional peppercorn sauce, but with Aussie chips and grilled onions instead of the prescribed corn-on-the-cob, mixed veg and mashed potato. Confusion clouded the waiter's face as we tried, several times, to explain this. He called over a colleague. We explained again. Now we had two confused waiters on our hands. Eventually someone who appeared to be the boss came over to sort things out… and it even took a while for him to grasp the concept. But, just as Dave and I were considering that it was too much trouble and that we should try elsewhere, the penny appeared to finally drop. At last, we thought. But even after the order had been taken to the kitchen, a waitress came over to reconfirm with us what we'd ordered as they were still confused.
The crab cakes arrived. They were rather fishy – and somewhat soggy, because the salsa had been piled on top of them rather than placed to the side – but they were edible, although our appetites weren't helped by the sudden blaring of loud dance music booming from the Bangkok Jam restaurant next door (the same music, presumably, that previous guests at our hotel had complained about when writing reviews for TripAdvisor.com). And then, when we were barely halfway through eating them…
…the steak and the Caesar salad arrived together. As I've said, we explained when we ordered that we wanted the Caesar salad as a starter – and the steak, of course, should have been prepared so that it was ready after we'd had our starter. I put the crab cakes to one side immediately; after all, you want to eat steak when it's hot, not tepid.
The meal didn't look that great, to be honest. The "Aussie chips" were bog-standard frozen fries, the grilled onions looked anaemic and rather as if they'd simply been sweated off, and the peppercorn sauce looked like a thin gravy, with no evidence of any peppercorns anywhere. Still, I cut myself a small portion of the steak – noting as I did so that it wasn't medium rare, but blue (not a problem; I like my meat bloody) – and took a mouthful.
I spat it out as quickly as I decently could. It was stone cold.
We complained to a waiter, who fetched the owner. He was most apologetic and suggested that he could ask the kitchen to "heat it up a little". He even offered us another meal. But by that time we'd lost our appetites, and our patience with the Keystone Cops-style service, altogether. He agreed to knock the price of the steak off the bill (big of him) but insisted that everyone else enjoyed eating there and that many people said it was the best meal they'd ever had.
Later on, we mentioned our bad experience to one of the waiters in Delaney's, the Irish pub in our hotel. He was surprised; the Outback was one of the top-rated restaurants in KL. Maybe they had a new chef?
Overall rating: 0 out of 5
I don't remember having had such a bad meal anywhere since breakfast at the Koala Bar in Siem Reap (which has since closed down). There was total confusion over their own menu, cold steak, and totally crap service. On their website the owner proclaims his "Desire to achieve excellence in the hospitality business, establishing benchmarks, all along striving for customer ecstasy". Let's just say he didn't do it for us.
Is the Outback Steakhouse in KL the worst restaurant in the world? Well, maybe not – I did get some rather boingy goat kebabs in a roadside greasy spoon in Kurdistan once. Perhaps it's just the most over-rated.