After several successive visits to Thailand, we decided to give somewhere else a go. Dave hadn't been to Nepal before, and it was over 10 years since Kay had been, so we booked ourselves a flight and a bed and set out at the beginning of June. We were leaving Delhi at the height of the humid, dusty and oppressive pre-monsoon season, and our hope was that at least the weather up in Kathmandu would be more pleasant.
First impressions
We flew in on an Indian Airlines flight, not the best way to start a holiday by any means. (Considering that there are now a fair few reasonable Indian domestic carriers, it's amazing that IA still manages to get away with its atrocious level of service.) Arrival at Kathmandu's Tribhuvan airport was pretty chaotic too, and the mosquitoes were out in force to greet us there. Still, after we'd got through immigration and picked up our bags we were off on a half-hour taxi ride down a fairly ramshackle road into the city.
Accommodation
"Any mention of Thamel accommodation has to start with Kathmandu Guest House."
(Lonely Planet guide to Nepal)
A friend who regularly visits Kathmandu concurred, so we booked in there for our brief stay in Kathmandu before heading on for Thailand (again!).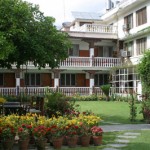 Much of the Kathmandu Guest House's (KGH) popularity stems from the great variety of rooms on offer. The prices range from $2 for basic accommodation up to $65 per night for a double a/c room with fridge, television and en suite bathroom. Although comfortable, even the top-of-the-range rooms were shabby with tired old grey rags for towels, and none of the usual toiletries apart from soap.
On the positive side, if location is a higher priority than free shampoo, then the KGH is practically unbeatable. Add that to the KGH compound's very pleasant surroundings, lovely garden and outside café with good food, an indoor restaurant (which we didn't try), and friendly, helpful staff. Although the Lonely Planet guide suggests that you can get better rooms for your dollars nearby, you can't really go wrong with this tranquil haven in the maelstrom that is Thamel.
Not having much time for intrepid travelling or trekking, we spent our time researching some of the night-spots.
Eating and drinking
In the old days, the tourist hub of Kathmandu was Jochne, aka "Freak Street". But the hippies are long gone and Thamel is now the place for travellers to relax in lively bars and international restaurants.
As far as places to eat go, though, we weren't hugely impressed with what Kathmandu (or Thamel, at any rate) had to offer. We seemed to put in hours wandering up and down the main tourist streets looking for anything that took our fancy, but as often as not ended up in a bar eating snacks and drinking Everest beer. There was one notable exception, though, just a couple of hundred metres away from the KGH – a rooftop Irish restaurant which did some of the best liver and bacon Dave had ever tasted. Dave's not usually a massive fan of liver, but this was melt-in-the-mouth delicious. None of your leathery "tongue of old boot" stuff here, and none of those horrible boingy bits either.
We also popped into the Pilgrim Bookshop next door to the KGH. Despite the name, it's actually a bar as well, which we thought was very civilised. The main reason we went in was to try some tongba (a sort of Himalayan millet beer), which we'd seen offered at various places. So Dave put in an order for one, while Kay ordered a straightforward beer just in case. Kay's beer arrived considerably more quickly than the tongba.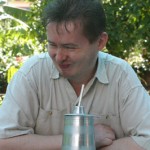 When the tongba finally did arrive it looked very strange. It didn't come in a glass – no, it came in a metal tankard-shaped container with a pipe to drink through. Dave lifted the lid to look inside (discovering at that point that tongba's served hot) and found a grainy mush inside. Time to sip… and you can see from the look on his face what he thought of it. It was overwhelmingly sour. An acquired taste, we decided, but one we weren't going to spend any time in acquiring ourselves. We paid the bill and left without drinking any more of it. They must have thought we were mad – either that, or "There goes another one…"
Things to see and do
Perhaps it was the altitude, perhaps we were simply tired after months hard at work in Delhi (yeah, right). But we seemed to spend an awful lot of time sleeping! However, we did go down to the Durbar Square for a look round – it is a UNESCO World Heritage Site, after all. Some interesting sights, sounds and colours, and it doesn't cost a huge amount to go and see it. But then again there were plenty of interesting little side-streets and courtyards to look at without having to pay to get in too.
Kathmandu's certainly worth a visit if you're in the region, and it's nice to get away from the muggy North Indian plains from time to time. But after four nights we were quite happy to be moving on again.