A trip on the Eastern & Oriental Express
If you ever find yourself in Bangkok and either have recently come into some money or are travelling on company expenses, may I suggest that there is no better way to get to Singapore than on the Eastern and Oriental Express.
The Orient Express dates back to October 1883. By the 1920s the train was running from Paris to Istanbul via Venice, through the Simplon Tunnel, built in 1906. Those were the train's glory days. Decadence was the mot du jour. Royalty and celebrities alike travelled in pure luxury and opulence throughout Europe.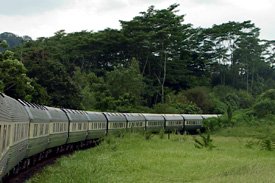 Rail enthusiast James Sherwood re-launched the service in 1982, having purchased original carriages at auction at Sotheby's and spent five years investing and modernising. The legendary Orient Express became the Venice Simplon-Orient-Express. Just four years later Sherwood came up with the plan for an Asian equivalent, linking two cosmopolitan poles: Bangkok and Singapore.
The Orient Express has a mythical quality which has been with me for as long as I can remember. Tales of eccentric and eclectic travellers taking a voyage to far-flung places have been lurking at the back of my mind since childhood. Movies, books and stories told, had me waiting for the day when I might too be part of that chosen few, that group of distinguished passengers heading for an exotic destination.
The train would take us from Bangkok to Singapore via Kuala Lumpur through some of the world's most luxuriant and beautiful countryside, through Thailand and Malaysia.
The first railway built in Malaysia was completed in 1869 under the orders of the Sultan of Johor. But, entirely made of wood, it was soon eaten by termites. Sixteen years later the network was rebuilt, and by 1909 both Malaysia and Thailand had their own railway systems. Eight years later the two joined at the border.
In 1923 the causeway joining Singapore to the mainland enabled travellers to journey from Bangkok to Singapore – taking a total of 60 hours. Our trip was to be more leisurely. On the schedule: tranquil but substantial breakfast in bed followed by an excursion. Back on board, a little time to recover from the day's exertions, silver service afternoon tea before deciding what to wear for dinner at eight. Nothing too strenuous, then. The journey was due to take three days and two nights.
Travelling through these two countries on one train is a first. The Eastern & Oriental Express is the only company to have this privilege. The agreement signed in 1991 with both Malaysian and Thai rail networks was a necessity for the luxury train to travel the length of the 1,262-mile peninsula.
"This is still the most exotic way to see this part of the world, a civilised way to see the backyards of the country," says the train's manager. And I couldn't agree more.
We arrived at Hualamphong Station on a hot, muggy morning in Bangkok full of anticipation. Entering the Orient Express lounge was the start to a journey in a parallel universe. Outside, baggage handlers were scurrying around while passengers waved their goodbyes. Inside, we checked in and were seated for brunch by the maître d'. "Would you care to share a table?" he asked. Of course, I thought, who knows who you might meet on the Orient Express?…
As I stepped aboard the elegant dark green and cream wagon, I was transported back in time. I fully expected to see two English spinsters, an Austrian baroness and Hercule Poirot having tea in the Restaurant car, while, in the corner, a glamorous blonde puffed seductively from a cigarette holder, as she flirted with an elderly gentleman…