Expat Interview – Jake Needham (Part 2)
On writing:
BE: I've heard through the grapevine that you write for love rather than money—for example, donating your book royalties to an orphanage in Bangkok. But do you have any advice for aspiring writers who do need to earn from the activity?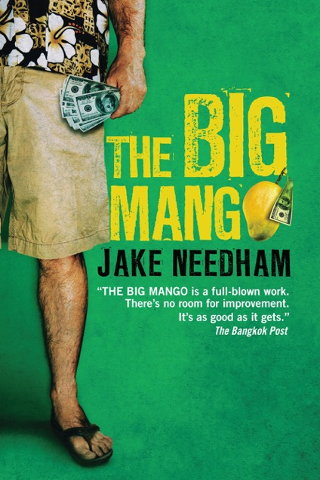 Jake Needham: Almost nobody earns a living purely from writing and publishing books. I'm told that I am in the top five per cent of authors in the Amazon Kindle store in terms of total copies sold, and I receive a hardly insignificant sum of money every month from Amazon, but there is no way that I could support my family solely from those earnings. And the result is no different for most writers who have a traditional publishing contract with Harper Collins, or Simon and Schuster, or some other international publisher.
Amazon pays me royalties on my eBooks at a rate of 70%, less a few small charges for this and that. On an eBook that sells for $5.00, I earn a little over $3.00. Under traditional publishing contracts, authors generally receive a royalty of 10% of cover price. So on a hardback that retails for $30.00, I would earn…$3.00. That's about the same amount I'm earning right now for each eBook I sell. And let me tell you, selling 1,000 eBooks every week is a heck of a lot easier, and more far likely, then selling 1,000 hardbacks every week.
My guess is less than five per cent of all novelists live solely on their earnings from writing. Almost every writer I know has another gig or some other source of income. They have to.
You've been quoted as describing marketing as "the price we writers pay these days for the privilege of being part of this brave new world of publishing". Do you give much thought to marketing your books?
Unfortunately, I'm the only one giving any thought to it. Again I would have to say that less than five per cent of all writers have the luxury of relying on other people to do their marketing for them. The rest of us, whether publishing independently through Amazon or under contract to a so-called major publisher, do it ourselves or it doesn't get done at all.
Do you attend lots of promotional events for your books?
Back when I was still being published in print editions I occasionally did a signing or spoke at a bookstore or library. I haven't done either in years. I don't miss it a bit.
You've embraced the major change in publishing which Amazon created with their Kindle eBooks and the rise of the independent author. How much has this new freedom, and the idea that anyone can publish a book now, affected you personally?
I was published for some years by a British trade publisher, but when that company was acquired by a Singapore media group we agreed on an arrangement to terminate my contract. I had just published The Ambassador's Wife, the first book in what became the Inspector Tay series about a CID cop in Singapore, and the second book in that series, The Umbrella Man, was ready for publication. Unfortunately, some people in government and law enforcement in Singapore had made their displeasure with Inspector Tay plain and the new owners of my publisher there in Singapore were extremely nervous about having any association with me.
If anyone in California suggested that Michael Connelly's books should not be published or distributed because he sometimes writes about policeman who are stupid, or motivated by politics, or dishonest, they would be laughed out of the state. But Singapore is not California, and to distribute anything there other than books that are unstinting in their praise of Singapore and every policeman and government official in Singapore is simply not done. So that was the end of my publishing contract.
It was really a blessing in disguise, however. My last three books have been published solely in eBook editions, and I'm delighted with all of them. The immediacy of access to readers is really extraordinary.
Why don't you publish print editions of your books in North America?
My UK publisher had no real distribution in the US, so they never even tried to market my books there. It was a little strange back then to sell so well in Asia and Europe, and yet be wholly unknown in the US. The Bangkok Post even said, "Jake Needham must be the best-known American writer almost nobody in America has ever heard of." I really love that line.
Happily, my eBook editions now do very well in the US, although about half my total sales are still in the UK, Europe, and Asia. I'd guess that is a far higher proportion of foreign sales than most American novelists have. All those print editions over the years helped me to build a remarkably international base of loyal readers, and I'm happy to say that a great many of them are still reading my books now that they're only available in eBook editions.
Your latest book, The Dead American, was published last month [December 2014]. Would you like to tell us how that came about? Or perhaps tell us about the one you've planned for 2015?
The Dead American was the third book in the Inspector Tay series. Like all of my novels it grew out of a real incident that occurred in Singapore in which a young American engineer was found hanging in his apartment. The Singapore police quickly closed the case as a suicide. A lot of people, including the parents of the young man who died, weren't so sure. All sorts of allegations with regard to Singaporean complicity in Chinese espionage swirled around the case, and it seemed to me to be a wonderful springboard for a novel.
I'm currently working on a book that I hope will be available this summer. It's called Devil Makes Three, and it will be my first stand-alone novel since I published The Big Mango over fifteen years ago. It's about a man who lives in New York City whose son disappears in Thailand. He's never been there, never been to Asia at all, but he sets out with a buddy, perhaps a bit naïvely, to track down his son and bring him home. Unfortunately for him, he is anything but prepared for the rabbit hole into which he tumbles.