Madame Tussauds – Bangkok: Part 2
Next is the Arts and Science room, but Einstein was absent that day. He was probably doing a shift at a shopping mall or something. No worries, there were plenty of other interesting people in there, mainly artists and musicians. So we posed beside Picasso. Sang with Pavarotti, and played the piano for Beethoven. Fun!
(Coincidentally, when we got back to our usual watering hole the owner was home alone and playing Pavarotti – he doesn't normally play that kind of music when there are customers in there – so I was able to casually drop into the conversation, "Oh, Pavarotti, very nice. We met him this afternoon.")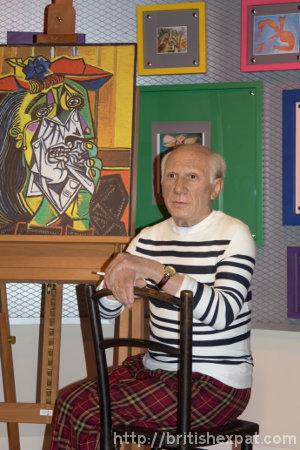 Then you move into the Sports room. Feel free to don a Liverpool shirt and pose with a couple of team members (I've no idea who they were and couldn't be bothered to read the info). See Becks doing a sit-up on a bench. And you can play a fun computerised beat-the-goalie thing where you kick a virtual ball and see if you can score a penalty. Dave was a bit peed off because the computer goalie thing kept saving his shots and on my first go, despite having tripped, missed my footing, and accidentally hit the ball before I'd meant to I SCORED!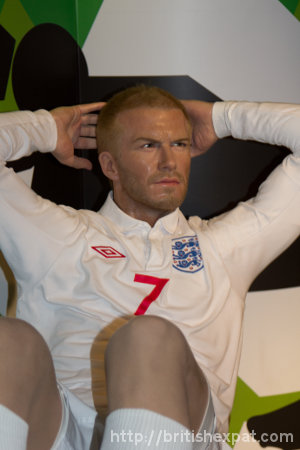 You can also have a putt under the watchful eye of Tiger Woods but Dave complained that there wasn't a putter available. (Apparently there was only a 3-wood and a 5-iron.) There's just no pleasing some people. Golf has as much interest for me as an afternoon in Halfords so I gave that a miss anyway. Meanwhile Dave discovered some computerised interactive thingy where you could fight with a guy who looked a bit like Shrek. Dave knocked him out fairly quickly so he was pleased about that.
Then we went into the Music room. I'm not very up on modern popular culture (I like the Kinks and Queen etc) so I didn't know who half of the people were. That didn't stop me joining a band with some guy and Beyoncé Knowles (who she?) and taking my place to pose as the lead singer before moving back to become the band's drummer. (There was a full drum kit there!) Pity I've no idea about how to play drums.
Oh yes, Michael Jackson was there too. Dave commented that he looked more human than he did in real life. And you could pose with Madonna – but you could only dress up in the costume if you're very small. (I'm a UK size 10 and the tail-coat jacket was hellish tight on me.)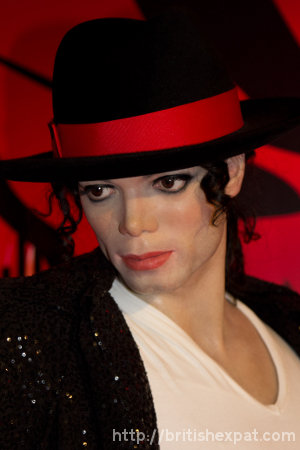 We moved on to the Film room. I showed Bruce Lee how to break concrete blocks with a single Kung Fu chop.