Madame Tussauds – Bangkok: Part 1
It had never occurred to me to visit Madame Tussauds. I mean, who the heck wants to go and look at some wax dummies? But I have seen the light!
As a marketing ploy, Madame Tussauds have some of their figures strategically placed in Bangkok's biggest and best shopping malls. Previously I'd only seen Liverpool FC figures, which didn't interest me at all. They were big crowd-pullers, though. Liverpool are hugely popular in Thailand! As are Manchester United. The Thais like the colour red – it's a lucky colour.
Anyway, one day we went into the Siam Paragon mall and there was Jackie Chan. Now you've got my attention! I'm a huge fan of that guy. Having previously ignored the footballers and other figures of no interest to me, I absolutely couldn't resist the offer of posing for a photo with Jackie. And it was free! I took my turn in the queue and Dave got some photos of me with the star. Great fun!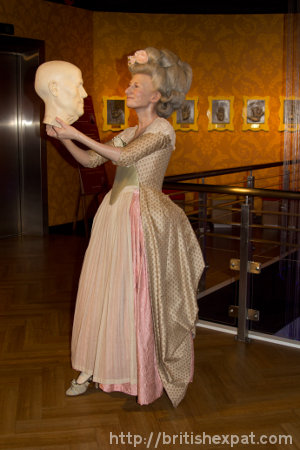 I didn't think that much about it at the time, but they had hooked me! I felt as though I had actually met him and was on a bit of a high afterwards. This is the real attraction of Madame Tussauds. And because you know they're not real you don't feel overwhelmed or tongue-tied by being in the presence of such super-heroes.
Thus the seed was sown. We must visit Madame Tussauds. It took us a few months before we were travelling through Bangkok again, but this was something we just had to do.
It's rather expensive at THB 800 (about £16) for an adult ticket and most people take around an hour and a half to enjoy their experience. It would be an expensive outing for a family group. Children's tickets cost THB 650 (about £13). Included in the ticket price is a guide book which provides some very interesting information about Madame Tussauds, its history, and facts about how the wax figures are made. You also get a voucher for a free souvenir photo. (More about that later.)
At first it's a bit disconcerting because there are all these famous people standing around and some of them look so real you expect them to move. Sometimes it even seems as though they are watching you. Creepy! I declined the opportunity to visit Hannibal Lecter behind bars as I was too scared that it might be a trick and he'd shout, "Boo!" and jump on me.
We went at a fairly quiet time – around 6pm on a weekday evening. This was good because we didn't have to battle with crowds to have our turn at mingling with the celebs. It was also good because we were able to take many photos without being disturbed by other visitors, or indeed getting in other people's way.
The exhibition is divided into different rooms. First there is the Royal room. As you'd expect, out of respect for the highly revered Thai Royal Family, these figures are roped off out of public reach. Look but don't touch! But you can take photos and there's lots of interesting information about the Chakri Dynasty too.
Then you move on to a much more touchy-feely experience. The History room is next. Here you can "meet" people like Gandhi, the Dalai Lama, several Asian politicians whom I'd never heard of, Princess Diana (eh?) and other notable historical figures. By the way, Princess Diana was a giant compared to me. Yes, I know that wax shrinks so they make the models 2% larger than life, but even so, I felt like a small child when standing next to her.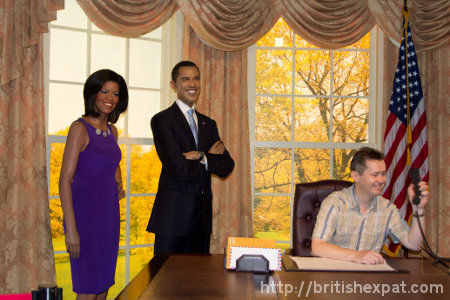 Then you move on to the Leaders room. Here you can meet global leaders, sit in Obama's chair at the "resolute desk" in the Oval Office and use his telephone. This is quite fun so I won't tell you what happens and spoil the surprise for you. You can also don an ermine robe and a crown and sit on a throne while Queen Elizabeth II stands by serenely ignoring you. I gave Chairman Mao a brief greeting and moved on. Again there were several Asian leaders that I hadn't heard of before.