It's all Greek to them! – out now!
This eBook was reissued as The Facts Lab Book of Greece on 12 March 2014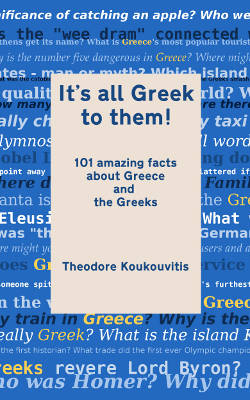 We're glad to be able to tell you about the launch of our latest eBook for Kindle, It's all Greek to them! 101 amazing facts about Greece and the Greeks by Theodore Koukouvitis.
This is the fourth Ergo Guides book that Theo's either authored or co-authored. He's drawn on the same intimate knowledge of Greece that he used in writing The Smart Tourist's Guide to Greece to collate a cornucopia of facts that reflect the huge cultural variety of his homeland and his own eclectic range of interests.
Want to know why people say "Beware of Greeks bearing gifts!"? You'll find the answer here. Ever wondered who Homer and Socrates were, or who the first thespian was? There are antiquities galore in these pages. You may even discover one or two things you thought you knew but actually didn't – for instance, did you know that there never were Seven Wonders of the World?
But the modern Greece has plenty to offer too, even if it can only boast two Nobel Laureates. There's plenty to read about modern Greek life – from its politics and economy to its national symbols. (Even one or two that aren't national symbols any more, like the King.) And its customs, religious and otherwise. Discover the hidden significance behind the throwing and catching of an apple. Save yourself from embarrassment by finding out how to signal the number 5 without causing offence. Learn about the reasons behind Greece's low divorce rate. (Yes, there's even a bit of sex in there too.)
You may not learn all there is to know about Greece from this book. But you'll certainly learn something, and have a lot of laughs along the way!
Buy the book
You can buy It's all Greek to them! through any local version of the Kindle Store. For your convenience, we've linked to the .com and .co.uk versions, but there are Kindle Stores for Germany, France, Italy, Spain, Japan, Canada and Brazil too.
If you have the time, we'd appreciate it if you could rate or review the book on Amazon too – it's always good to have feedback. Thanks!
Not got a Kindle?
Don't worry, you don't need one. There are several Kindle reader programs, plugins and apps available at Amazon that cover most computers and smartphones.