The Smart Tourist's Guide to Greece – out now!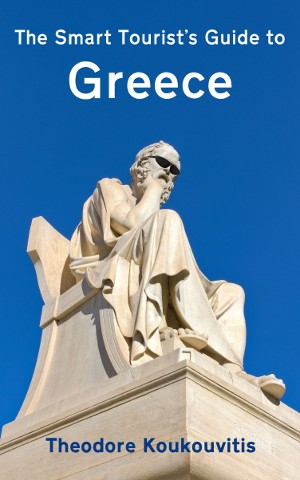 We're delighted to announce the launch of our new eBook for Kindle, The Smart Tourist's Guide to Greece by Theodore Koukouvitis.
It's a guide book unlike any other. If you want to know where to get a cheap place to sleep or get a bland meal for the mass market, then don't look here – buy a Lonely Planet Guide or similar. Likewise, you won't find any puff pieces for overpriced hotels and restaurants in these (electronic) pages.
Instead, Theo gets to grips with the real substance beneath the surface of retsina, bouzoukis and Olympic Games. He writes frankly about the wars, treachery and scandals which have shaped modern Greece, looking at the country with the benefit of his experience as a tourist and as an insider in Greece's hospitality industry. This book handles issues other guides wouldn't dare to touch such as prostitution, police brutality, the ruinous financial legacy of the 2004 Olympic Games (and their unforeseen benefits), and the effects of the economic crisis on tourism.
He doesn't pull his punches, although somehow he manages the difficult trick of remaining respectful towards even the people he's criticising. Not only that, but he injects a lot of humour into the book too, with a wry look at some of the Greek people's attitudes and their views about foreigners. Although there's some serious stuff behind the misconceptions, it's very funny to read about them.
If you want to know more about the real Greece today and how to spot what most tourists are missing, then this is the book you should buy.
Not got a Kindle?
Don't worry, you don't need one. There are several Kindle reader programs, plugins and apps available at Amazon that cover most computers and smartphones.
If you've got the time, we'd love to have your feedback on Amazon too. Thanks!